Ways to Build Lasting Relationships with Clients as a Painting Contractor

To run a successful painting business, you'll need to build lasting relationships with your customers. The most successful painting contractors are those who put in the extra work to build sincere connections with their clients, so much so that their customers would never think of taking their business elsewhere. Here are some helpful tips you can use to build genuine relationships with your customers and grow your painting business.
Dress and Act Professionally
First impressions can have a lasting impact on the way people feel about your business. In most cases, the first thing potential clients notice about your business and your employees is their appearance: how they act, dress, and speak. Therefore, it is important to always put your professional face forward when conversing with clients. It is much more likely that a client will choose your company if you look like someone they can trust and not someone who just rolled out of bed.
Be Personable and Engaging
When interacting with clients, it's important to always be personable and engaging. Be sure to smile, introduce yourself, and show that you want to engage with whoever you're talking to. However, use your intuition. If a potential client gives you a clear signal that they are in a rush or are uninterested in talking, don't try to extend your conversation.
Ask Open-Ended Questions
A great way to engage in conversation with potential clients is to ask open-ended questions that solicit more than a yes or no answer. These types of questions lend themselves to a conversation and have the potential to provide a more insightful look into the needs of potential clients. Some questions you may consider asking include:
What do you do for a living?
What do you like to do for fun?
What did you do over the weekend?
Tell me about your house.
These are just a few examples of open-ended questions for inspiration. It's always best to ask questions that are specific to the context of your conversation. As always, be polite. If your client is sending you signals that they are uninterested in continuing the conversation, don't continue to pry or poke.
Be a Good Listener
While engaging in conversation with customers is an important part of building lasting relationships, it's equally important to be a good listener. In addition to making good eye contact, being a good listener means allowing the other person the chance to speak and be heard. When speaking with clients, be attentive, and avoid interrupting them. Before responding, reflect on what they've said and provide an appropriate reply.
Treat Your Customer's Problems as You Would Your Own
Ultimately, the best client relationships are rooted in empathy. It is important to treat your customer's problems as you would your own. If your customer brings up something in their personal life with you, you should respond as if you were affected by the incident. This approach will create long-lasting relationships with clients.
Use the Business Coaching Services at Painter's Academy to Grow Your Painting Company
As a painter, building lasting relationships is essential for customer retention. Taking the time to engage in meaningful conversation with your customers will benefit your bottom line. At Painter's Academy, we know the struggles painters face in becoming successful business owners, and we're here to help.
With over 13 years of experience helping painting businesses grow, we have the expertise to take your business to the next level. Our services have a proven track record of helping painters develop the revenue streams and gain the contracts that provide profitable returns. If you want to grow your painting business, call today at (423) 800-0520 or fill out our online contact form.
The 5 Keys for Success in ANY Economy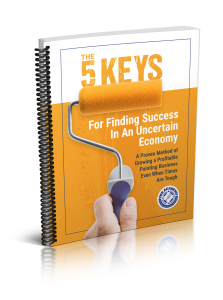 Discover the key to unlocking the hidden income potential in your painting business.
Hear What Other Members are Saying:
"Our first campaign reached $60,041.98! That's a huge percentage of our annual sales! You don't pick the peach orchard just one time. Different peaches ripen every day. Thanks for encouraging us to keep after it!"
"15 requests for quotes and closed and/or completed $23,000 of work and I still have a few more to do. Conservatively this campaign will net $25,000 in found money in the first 45 days! Thanks Brandon!"
"This year has been the biggest year of growth for us. We're double where we were last year. I realized the real money in this business is in the marketing of the services - not the doing of the services."
The 5 Keys for Success in ANY Economy
Discover the key to unlocking the hidden income potential in your painting business.