Is Instagram a Useful Tool for Growing Your Painting Business?

In 2020, Instagram is one of the most powerful marketing platforms businesses are harnessing to grow their profits. With over 700 million active monthly users and 70 percent of American businesses using the platform, Instagram holds tremendous value for contemporary companies. As a painting contractor, it is important to stay up-to-date with trending communication strategies—that means having an effective Instagram presence. To stay competitive, painting contractors must showcase their services and products on Instagram.
If you are a painting contractor struggling to navigate the marketing landscape, the expert business coaches at Painter's Academy can help you get on track, generate quality leads, and grow your profits. Outlined below are some helpful tips for harnessing the power of Instagram to grow your painting business.
Use Hashtags
On Instagram, hashtags are the primary means of content discovery. Many of the platform's active users search for content via specific hashtags. Including 10–15 hashtags at the bottom of your post is considered to be best practice. This way, you can attract traffic to your content without coming off as spammy.
It's important to use highly searched hashtags in your content. There are tools such as Hastagify that you can use to browse relevant hashtags with high search volumes. To attract the most users, be sure to use a broad range of hashtags.
Use Geo-Tags to Attract Local Customers
Instagram is a very big digital platform. To make yourself searchable to people in your area and community, you should use geo-tags to mark your location. This way, you can connect with local clients looking for your services. Additionally, consider using local hashtags and engaging with other businesses in your area to localize your Instagram presence.
Encourage Followers to Share Your Content
Getting content shared should be one of the primary goals of every Instagram marketer.  Luckily, the visual aspect of the painting industry lends itself to sharing more than other industries. Instagram users primarily use the platform to consume visual content and get inspired. Therefore, it should be fairly easy to encourage your followers to share your content. Offering a reward, such as a discount or a giveaway, in return for a share is a great way to spread the word about your business and grow your followers.
Post Useful Content and Avoid Being Overly Promotional
Many businesses new to Instagram employ a purely promotional strategy. However, this is not the way to gain followers. In fact, posting content that appears overly promotional or spammy is a quick way to lose followers. Posting content that is interesting and useful to your target audience is the best way to grow your Instagram presence, and in doing so, profit from the platform. As a painting business, this may mean posting content, such as a buyer's guide or a list of the latest painting trends.
Painter's Academy Helps Painters Develop an Effective Marketing Strategy
As a painter, taking the time to invest in your marketing strategy will help you gain valuable leads, lucrative contracts, and returning clients. With hard work and dedication, you can watch your business grow, expand, and excel. Most painters only use paid Google Ads as their marketing strategy. However, this strategy alone will not create the sustainable revenue streams you need for a successful business. If you are a painter who is not seeing results from paid searches, the business coaches at Painter's Academy are here to help.
With over 13 years of experience helping painting businesses grow, our team has the expertise to take your business to the next level. Our services have a proven track record of helping painters develop effective marketing strategies that provide profitable returns. If you want to grow your painting business, call today at (423) 800-0520 or fill out our online contact form.
The 5 Keys for Success in ANY Economy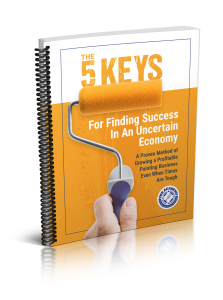 Discover the key to unlocking the hidden income potential in your painting business.
Hear What Other Members are Saying:
"Our first campaign reached $60,041.98! That's a huge percentage of our annual sales! You don't pick the peach orchard just one time. Different peaches ripen every day. Thanks for encouraging us to keep after it!"
"15 requests for quotes and closed and/or completed $23,000 of work and I still have a few more to do. Conservatively this campaign will net $25,000 in found money in the first 45 days! Thanks Brandon!"
"This year has been the biggest year of growth for us. We're double where we were last year. I realized the real money in this business is in the marketing of the services - not the doing of the services."
The 5 Keys for Success in ANY Economy
Discover the key to unlocking the hidden income potential in your painting business.