How to Network the Right Way: 4 Essential Tips for Painting Contractors

Networking for painting contractors and small business owners is vital, but it can also be challenging. Chances are you're already aware of how integral it is to growing your painting business, yet you don't know where to start first or how to do it effectively. So, how can you network in a way that is both efficient and effective?
Building Lists
Step number one, build a list. It sounds simple, but most painters network in this haphazard way where you collect this pile of business cards that you intend to do something with one day, but nothing ever really happens.
And a lot of times you meet people that could help you a little, but not a lot. So step number one is making a list. It's being intentional and to put forethought into your networking list. Here are some examples of people you probably want on that list. You probably want two to three contractors in every noncompeting yet complementary service category. Three roofers, three plumbers, three electricians, three flooring installers, three cabinet installers, et cetera. Realtors that move the top of real estate that you want to be in front of, interior decorators, commercial property management companies, facility and maintenance managers for corporations. Those are the people that you want on your networking list.
Once you get them on the list in Excel, import them into your CRM, you've got to figure out a way to do step number two, which is staying in touch with them on a one-to-many basis. We recommend that you do this through a mailed, yes, mailed, and emailed newsletter. Some of our members even use our at-home monthly newsletter to send that by text message. When you do this, it means that they'll get 24 touches every year, they'll see you as professional, and that you've taken the work and the time to do something that most people will never do.
They just want the work, they just want the job, but they never add any value. They never show their painting business in a light, in an environment, in a public way that sets them apart. The beauty of newsletter marketing is that it's the same amount of work to send out one or 1,000. And once you pull the trigger on it and get your system set up, you can get it out month after month. And this by itself alone will help you land tons of work overtime. But we can't keep it with just that.
Calendar Outreach
Number two to make networking really be effective, you need to set up some calendared outreach. It could be 50, 60 people that you reach out to every month, make a quick phone call, send a text message. Maybe you take 10 to 20 of those people and you try to set up a lunch meeting. 10 of them say yes, and you see two people a week and you cycle through your list. Better that you network with a smaller amount of people you can actually invest time in and then to broadly touch a larger list, but they never really get to know you.
Joining Organizations
Step number four. Many of you have heard of organizations like BNI, but there are also other organizations like BOMA, Associated Contractors, which can be good for some folks that are new in construction. We don't recommend getting in there. The Home Builders' Association, not necessarily to work with general contractors, but to network with other homes service companies that work directly for the work market so that you can exchange repaint and other home improvement leads.
And there are also trade organizations in assisted living, private schools, petroleum products, such as large tank yards, manufacturing associations, all these associations, and organizations meet together. And being a member of that community can really help you. But guess what? You still have to build your list. Reach out with one-to-many newsletter marketing and do the one-on-one outreach even if you're inside one of those organizations. Often they're just not very efficient with your time if you do not add the other components we just mentioned.
Offer Something of Value
Here's a fifth tip, consider it a bonus. When I got frustrated by our long BNI meetings that weren't producing a whole lot of results, I started my own trades association with one representative from each trade. We surveyed our clients each and every time we did an estimate. 70% of people completed the survey and they checked on average about 2.3 boxes, which meant when we ran 25 estimates a week, I had tons of leads to give away.
And there's nothing better to make a lasting impression than to call somebody up on the phone and say, "Hey, I've got two or three leads here of people that have said they're going to look at replacing their cabinets in the next 60 days." So if you will give to people in advance, if you will communicate in advance, I promise you the leads will come your way. And if you keep it up, they'll come your way all year long even in the winter when you need it most.
Brandon Lewis with Painter's Academy and Painter's weekly. If these tips are helpful, do subscribe, click the button below. And if I can ever help you, let me know. I'd be glad to get on the phone with you for a free diagnostic call, where we just look at your business systems and I help you find the low hanging fruit, the easy money that comes from running a painting business after three years that you really should be picking up. Talk to you next week.
The 5 Keys for Success in ANY Economy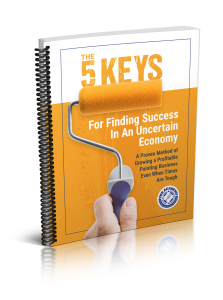 Discover the key to unlocking the hidden income potential in your painting business.
Hear What Other Members are Saying:
"Our first campaign reached $60,041.98! That's a huge percentage of our annual sales! You don't pick the peach orchard just one time. Different peaches ripen every day. Thanks for encouraging us to keep after it!"
"15 requests for quotes and closed and/or completed $23,000 of work and I still have a few more to do. Conservatively this campaign will net $25,000 in found money in the first 45 days! Thanks Brandon!"
"This year has been the biggest year of growth for us. We're double where we were last year. I realized the real money in this business is in the marketing of the services - not the doing of the services."
The 5 Keys for Success in ANY Economy
Discover the key to unlocking the hidden income potential in your painting business.