The #1 Reason Painting Contractors Are Rarely Rich

I'd like to challenge you to do something if you dare…
Notice: You must emotionally detach yourself from your business and your business from your personal identity to do this…
The next time you are at the paint store, look around. What do you see?
Rolls Royce's? BMW's? Mercedes?
Nope… Just a bunch of dudes in tattered clothes and old trucks and vans.
Why?
Because most painters barely make a living – even "established owners" often make well under $100,000 a year. Frankly, it's not worth the trouble for that take-home pay.
You'd be better off getting a job and letting someone else deal with the risk and headaches.
Now, don't get me wrong – I made a lot of money in the painting business. Still do.
I know a TON of really successful business owners who are cash-flowing quite well and living a balanced lifestyle with room for friends, family, and leisure…
But I assure you – they are the exception of exceptions. Not the rule.
Why is this? Simple…
While you are still at the paint store, ask the next owner you meet: "Hey John, when's the last time you worked on improving the business-end of your business? Maybe took a course, read a book, or engaged a mentor about sales, marketing or management?"
Ask that question of 100 owners… I'll bet only 98 have done anything in the last 12 months – maybe never.
The #1 reason painters are rarely rich is this: They never take the time to become a "serous student" of the "business-end" of their painting business. Painting business management is something they simply aren't interested in. They are stuck in the technician's mindset.
They mistakenly believe that their technical skills and craftsmanship will make them wealthy… it's hogwash peddled by people who would rather feel better about their station in life than reach for their dreams through improvement.
Question: Are you making this same poverty-inducing mistake?
If you are, I'd like you to do two things:
1 – Leave a comment below this blog and let's talk. No more "suffering in silence" hoping that the next year will magically get better… because it hasn't worked yet.
2 – Register for the 2019 Painting Profits Summit. It's the place where the nation's most "serious students" of painting profits and wealth gather each year. Click here to register.
Now, have a fantastic day!
Let it be the day you decide to start laboring in a different way – a way that will lead to your business working for you… instead of the other way around.
Brandon Lewis
Founder, The Academy for Professional Painting Contractors
Publisher, Painter's Weekly
The 5 Keys for Success in ANY Economy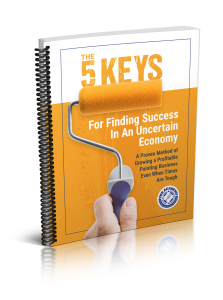 Discover the key to unlocking the hidden income potential in your painting business.
Hear What Other Members are Saying:
"Our first campaign reached $60,041.98! That's a huge percentage of our annual sales! You don't pick the peach orchard just one time. Different peaches ripen every day. Thanks for encouraging us to keep after it!"
"15 requests for quotes and closed and/or completed $23,000 of work and I still have a few more to do. Conservatively this campaign will net $25,000 in found money in the first 45 days! Thanks Brandon!"
"This year has been the biggest year of growth for us. We're double where we were last year. I realized the real money in this business is in the marketing of the services - not the doing of the services."
The 5 Keys for Success in ANY Economy
Discover the key to unlocking the hidden income potential in your painting business.