HomeAdvisor and Angies List Leads for Painting Contractors

HomeAdvisor painting leads are derided by the majority of painting contractor reviews. Angie's List leads for painters present a similar problem as well… one you might now even know about.
For years, I've been advocating that owners avoid "rent-to-own" lead services like HomeAdvisor, Angie's List, Thumbtack, Houzz, you name it… Why?
Question: Would you PAY A LOCAL PAINTING COMPETITOR to build his OWN WEBSITE so he could get between you and your local clients? Then have him hand you a few leads like scraps off a dinner table that he shares with five other contractors to make a profit? Of course not…
However… when you use pay-per-lead services, you are personally financing the efforts of large, corporate competitors to build a PERMANENT web presence in your local market… forever separating your painting company from local clients on the first page of Google.
Why would you knowingly finance the creation of a local painting competitor put of your own pocket?
What's worse, recent articles in American Painting Contractor Magazine have revealed that the parent company of Angie's List and HomeAdvisor, IAC/InterActiveCorp, has been sued for a second time in a few short months. The first lawsuit was brought on by contractors who felt they had been lied to about leads using shady sales tactics – one of several suits brought by contractors regarding the same practices.
The second, more recent lawsuit contends Angie's List misleads consumers about provide background-checked workers when in fact they only background check the owner of the company (who may not be doing the work or even supervising it.) While the district attorney in San Francisco is suing Angie's List, one has to wonder if this falsely advertised claim exposes painting contractors who use Angie's List to a similar legal risk from consumers.
Even if the lawsuits did not exist, painters should not be buying leads from services like Angie's List and HomeAdvisor. Doing so is like going to a pay-day-lender to solve a cash-flow problem… with each purchase you only get yourself deeper and deeper into financial trouble.
Painting contractors should be investing in building their own digital real estate. If you aren't investing in search engine optimization for your website, you are failing to build lasting equity.
Each painting lead you purchase from Angie's List and HomeAdvisor only takes you further from your goal of being independent online… chaining you to corporate companies who do not care about your success while they make you and your competitors slug it out for the contract.
In the end, HomeAdvisor and Angie's List painting leads get more and more expensive and are shared with more and more contractors. This means two things…
Low closing rates for these painting lead services means you'll go all over town wasting time and gas talking to tire-kickers.
High cost of painting lead combined with low closing rates means your cost of sale from these lead sources will climb to the $250 to $400 per transaction limit.
If your average transaction size is $2,500 from these painter lead sources and your net profit margin is around 25%, that means one thing…
All of your net profits from Angie's List and HomeAdvisor painting leads will go to the lead service…
Not you. O-U-C-H. Mathematics is a cruel thing…
I could go on and on about why painting contractors should avoid leads purchased from Angie's List and HomeAdvisor – but I hope you're getting the picture.
Now, what if you are looking to optimize your current painting website and web properties to break free from these budget-busting vultures yet feel absolutely lost?
I'd point you to two resources:
#1 – Download the Free Report + Video Training Series On This Page – It chocked full of the exact strategies high-performing painting contractors are using to succeed to generate online painting leads.
#2 – Read this article about what you should be looking for in web design for painting contractors and why painting industry experience is critically important for success.
Finally, if you are entirely lost as to what to do and have an urgent need to get out from under the thumb of these parasitic painting lead from HomeAdvisor and Angie's List, simply call our offices directly at 423-800-0520.
We only work with repaint contractors to generate high-quality painting leads – period. We've coupled decades of industry experience with decades of web experience to bring you the best of both worlds.
In closing: Stay away from  HomeAdvisor and Angie's List painting leads. Instead, invest in yourself and your future by building your own digital real estate.
The 5 Keys for Success in ANY Economy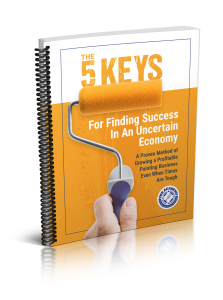 Discover the key to unlocking the hidden income potential in your painting business.
Hear What Other Members are Saying:
"Our first campaign reached $60,041.98! That's a huge percentage of our annual sales! You don't pick the peach orchard just one time. Different peaches ripen every day. Thanks for encouraging us to keep after it!"
"15 requests for quotes and closed and/or completed $23,000 of work and I still have a few more to do. Conservatively this campaign will net $25,000 in found money in the first 45 days! Thanks Brandon!"
"This year has been the biggest year of growth for us. We're double where we were last year. I realized the real money in this business is in the marketing of the services - not the doing of the services."
The 5 Keys for Success in ANY Economy
Discover the key to unlocking the hidden income potential in your painting business.