General Contractor Drugged with Truth Serum Emails Painter Brutal Bid Request

Share on Social Media!
From: William Ellis Bill@AvarumGeneralContractors.com
Date: Tue, Oct 30, 2018 at 1:39 PM
Subject: HUGE Painting Project
To: Jonathan Casey JC@abcpaintingcorp.biz
Hey Jonathan…
We do not even have this job I'm writing you about. Chances are, we'll never get it. 15 other GC's are bidding on this too. Each GC has 5 paint bids for a total of 75 painters bidding.
Frankly, this thing is hopeless… but I need a bunch of low-ball bids so I'm writing you.
Anyway… if we get the job, it will be because we were the cheapest or made a terrible mistake. We'll be looking to squeeze you for free work at every turn to make up the difference. That ok?
By the way, the architect's plans barely even show what the hell is going on with the paint work. Why? Because paint is such a small part of the entire project budget that it never gets any attention.
Why should I care – not my problem? That's your problem… back to the bid request…
We would love to tie you up for hours on end putting together a budget for this. We'll pepper you with endless bid change emails you'll have to closely examine to see if they affect paint, even though you won't get the job and if you do you will not make any money.
It's so time-consuming and complicated you'll need to hire a full-time blue-print reader. This will tie you up so you can never do any marketing or prospecting on your own. It's kind of our "secret strategy"… Have I said to much? Nah…
By the way, we own the client relationship. So, after this is over, you have nothing to show for it. Like zero equity for all your hard work. You get to start over from scratch after each and every project.
Last thing we want is for you to get "ideas" about getting your own clients.
It's kind of like sharecropping now that I think about it. We own the land, you do the work, we get the harvest, you get room-and-board… A nice arrangement.
Thankfully, we know you really don't compare the profit margins in new construction to residential or commercial repaints (thank goodness for us!). So, by the time the job is over we'll hand you another one… last thing we want you to do is have time to realize is that you are not making any money.
Who needs profits anyway? You run a million-dollar painting business and are surrounded by dozens of mouths to feed, I mean painters, so let's land this massive job, together ok?
I think it's only right to tell you we take FOREVER to pay you. I mean a long time. That retainage check ain't ever coming. We'll find an excuse to make sure of that.
Have I thanked you lately or abdicating your responsibility to sell and market to your own repaint clients and build your in-house list of customers. THANKS!
Increasing your profits and equity is the last thing we need here at Avarum General Contractors. We'd be in a real pickle if you did that…
If it weren't for you lending us your staff for endless blue-print reading, labor-intensive project management, and being the "bank" for our company, we'd never be able to rake in a ton of cash at your expense!
We might even have to do the work ourselves!
That's for blue-collar chumps like you to do. I mean "chump" in a good way…
Anyway, I'm feeling kind of weird after drinking this. I probably need to lie down.
Please respond so we may screw you while making you feel grateful for the opportunity and our "relationship."
This is the last time I will do this to you. Promise.
Not really, but I feel like I have to say that.
Email me your numbers when you get them together and make sure they are CHEAP!
You'll make it up on the next job… Promise.
William "Liar-Liar-Pants-on-Fire" Ellis
ABC General Contractors
Bill@AvarumGeneralContractors.com
1-800-Poor-Subs
*****END EMAIL*****
Share on social media with other painters if you think this is funny… or "painfully" true!
NOTE: The above fictional email is called satire. If you are confused, please look it up.
If this "email" describes your situation, please request the report on this page or call our offices for immediate help at 423-800-0520.
We've helped hundreds of painting contractors and dozens in this EXACT situation.
Stop working for the GC's. Start working for yourself!
Brandon Lewis
Founder of the Academy for Professional Painting Contractors
Publisher, Painter's Weekly
The 5 Keys for Success in ANY Economy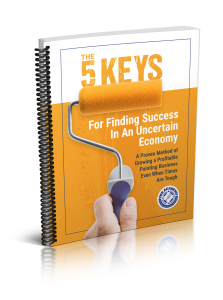 Discover the key to unlocking the hidden income potential in your painting business.
Hear What Other Members are Saying:
"Our first campaign reached $60,041.98! That's a huge percentage of our annual sales! You don't pick the peach orchard just one time. Different peaches ripen every day. Thanks for encouraging us to keep after it!"
"15 requests for quotes and closed and/or completed $23,000 of work and I still have a few more to do. Conservatively this campaign will net $25,000 in found money in the first 45 days! Thanks Brandon!"
"This year has been the biggest year of growth for us. We're double where we were last year. I realized the real money in this business is in the marketing of the services - not the doing of the services."
The 5 Keys for Success in ANY Economy
Discover the key to unlocking the hidden income potential in your painting business.