Painting Contractor Consultant Hosts Coaching Call LIVE!

Painting contractors rarely get an opportunity to be coached or consulted by an expert in the field. Instead, painters spend years in expensive experimentation that often results in erratic cash flow, stagnant sales, and little-to-no equity in their painting business (which means zero dollars for the retirement nest-egg!)
Recently, I was able to conducted a LIVE Q&A Call where painters all over the U.S. and Canada called in to get their toughest questions answered. It was a lot of fun!
CLICK THE PLAYER BELOW TO LISTEN NOW!
Loading the player …
On this call, you'll discover…
#1. How to Make the Transition from Residential Into Marketing for Commercial Repaint Leads
#2. Scaling Up Your Business and Hiring for Painters and Crew Leaders
#3. Why You Are Constantly Losing to Price As Chuck-in-a-Truck Walks Away with the Business
#4. Marketing for Painting Contractors That Really Works (an Overview of the Core 5 Systems)
       a. Customer Reactivation
       b. The PowerPaint Presentation Process
       c. Customer Retention Through Newsletter Marketing for Painters
       d. Referral Lead Generation for Painting Contractors
       e. Commercial Repaint Sales Generation
#5. How Painters Can Specifically Set Up Their Business to Collect More B2B Referrals
#6. And Much More You're Sure to Enjoy!
If you learned a thing or two that you can apply in your painting business, post a reply below!
Brandon Lewis, MBA
Director of the Marketing Department
Painting Contractor Coach, Consultant, and Mentor
p. 423-800-0520
f. 800-410-3595
THE ACADEMY for PROFESSIONAL PAINTING CONTRACTORS
1523 E 27th Street
Chattanooga, TN 37404
The 5 Keys for Success in ANY Economy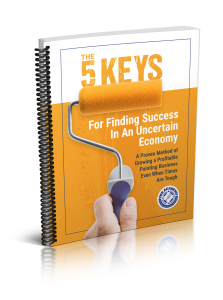 Discover the key to unlocking the hidden income potential in your painting business.
Hear What Other Members are Saying:
"Our first campaign reached $60,041.98! That's a huge percentage of our annual sales! You don't pick the peach orchard just one time. Different peaches ripen every day. Thanks for encouraging us to keep after it!"
"15 requests for quotes and closed and/or completed $23,000 of work and I still have a few more to do. Conservatively this campaign will net $25,000 in found money in the first 45 days! Thanks Brandon!"
"This year has been the biggest year of growth for us. We're double where we were last year. I realized the real money in this business is in the marketing of the services - not the doing of the services."
The 5 Keys for Success in ANY Economy
Discover the key to unlocking the hidden income potential in your painting business.