Joe the House Painter's Marketing Problems

Let me tell you a story… Last Wednesday afternoon, I spoke with an owner (AKA Joe) from the Northeast who desperately wanted to grow his painting business, but just didn't think he could find the time.
Even though Joe only had six painters in the field,
he felt stretched thin and worn to a frazzle!
Since he was not pushing a brush himself, I was initially puzzled at what could be consuming all of Joe's time… then the truth slowly began to "leak out" as we spoke.
Joe spent his entire day "reacting" to whatever landed in his lap. He was what I like to call the quintessential "fire fighter" and prided himself on how "busy" he always was. He would start out his day by checking on jobs in the field or getting them started. When I asked Joe why he did this, he said he had just "always done it that way."
However, after we talked further, I discovered Joe HAD to do this because he did not provide a detailed scope of work, labor budgeting sheets, equipment/material sheets, addendums, procedure checklists, or any other support materials for his crew. Everything was "verbally communicated," which meant little was remembered.
This also caused daily "rush orders" for equipment from crew leaders when tools were left behind. Constant trips to the paint store for "extra" materials were routine.
Then, about 10AM, Joe had to start "chasing cold leads" as he called them.
"I have to see a bunch of them because I buy them from this
online lead service that sends them out to three other painting contractors.
If I don't get there first, I lose them.
Sometimes, the lead doesn't even return my calls,"
he told me, after using a few choice words I won't repeat here 😉
Since Joe has been in business for 18 years according to his completed diagnostic survey, I asked him why he was still buying such a high-volume of lower-quality, cold, online leads. Why wasn't he primarily doing repeat and referral work at this point in his career?
As we discussed his customer list, Joe embarrassingly admitted the facts, "I have my customer list in Quick Books, but I don't ever communicate with them. I used to send a Christmas card when I first got started, but I haven't even done that in several years," he said.
This was particularly sad in Joe's case. He had an in-house list of over 1,100 past customers, which is worth about $1,100,000.00 in organic spending each and every year (not counting referral value!)
Unfortunately, Joe's sales were only hovering around $325,000.00, which meant he was leaving about $775,000.00 in SOLID GOLD on the table for other painters to "steal" from him!
When we moved on to talk about the sales process, I quickly discovered there was "pricing" going on, but almost zero value-based selling. Here's what he said…
"You know, sometimes I answer my phone and sometimes it goes to voicemail. I get their information and show up to do the estimate. I take a look around, figure up how long it will take me to do it, and then I email them a price in the next day or so.
Sometimes I email or call to follow up, but sometimes I'm just too busy to get back with them. If they don't call me, I assume they went with someone else based on price," Joe said casually. Too casually for me…
I explained that in painting, he MUST build value through pre-positioning, surveys, gifting, audits, overviews, company stories, social proof, on-site estimates, post-positioning, and follow-up in order to separate himself from the competition. "You must give the customer ample information and supporting, process-driven proof to back up your claim that 'you are worth more' than the typical painter," I said during his diagnostic call.
To his credit, Joe had a long list of sales tools, techniques,
and processes that he "used to use" when he first started.
Now, he said, "I'm just too busy to do it like I used to."
You see, Joe wanted to have it "both ways." He told me he didn't have the time to communicate with past customers, improve his sales process, or create field operations systems to reduce headaches. Yet, he freely admitted that he DID make time in his schedule every day for menial, low-pay tasks.
Joe was leaving $775,000.00 per year in PURE, low-hanging 24-Karat GOLD on the table… because he "didn't have the time."
FACT: Every owner has the same amount of time each day. It's not about time, it's about choices.
My Challenge to You: Calculate the cost of "busy work" that is causing you to miss larger opportunities. Is it $50,000, $100,000, more? Next, take a hatchet and clear a path for higher-pay work.
My Promise to You: If the owners in our programs can learn how to stop leaving GOLD on the table, you can easily do it too. There's nothing unique or special about their talents, situation, or education.
The biggest difference is this: One day, they simply decided to take a small step toward change. What will that small step be for you? Contacting your customers? Revamping your sales system? Reaching out for referrals? Taking charge of your daily schedule?
Let me know what your "first step" will be by leaving a reply in the space below.
Brandon Lewis, MBA
Director of the Marketing Department
p. 423-800-0520
f. 800-410-3595
THE ACADEMY for PROFESSIONAL PAINTING CONTRACTORS
1523 E 27th Street
Chattanooga, TN 37404
The 5 Keys for Success in ANY Economy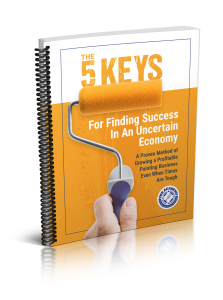 Discover the key to unlocking the hidden income potential in your painting business.
Hear What Other Members are Saying:
"Our first campaign reached $60,041.98! That's a huge percentage of our annual sales! You don't pick the peach orchard just one time. Different peaches ripen every day. Thanks for encouraging us to keep after it!"
"15 requests for quotes and closed and/or completed $23,000 of work and I still have a few more to do. Conservatively this campaign will net $25,000 in found money in the first 45 days! Thanks Brandon!"
"This year has been the biggest year of growth for us. We're double where we were last year. I realized the real money in this business is in the marketing of the services - not the doing of the services."
The 5 Keys for Success in ANY Economy
Discover the key to unlocking the hidden income potential in your painting business.