Commercial Painting Bid Lists and Leads

For commercial painting bid lists and leads, there are "good lists" and there are "bad lists" to be on…
BAD LISTS – These are lists where General Contractors contact you to bid on new construction plans. Usually, there are about a DOZEN GC's in the mix and about forty painters all "slugging it out" to come up with the LOWEST possible price.
You'll spend hours pouring over vague blueprints while the changes constantly roll into your email inbox with last-minute "updates" to the plans. If you win the bid, most of the time it's because you've missed something major that will cost you a fortune.
GOOD LISTS – When you're on this list, the facility manager calls you to look at an existing property for the purpose of painting it. If you've built a good relationship, you'll be the only painter looking at the project. If you have to bid against someone, it's usually no more than three painters vs. DOZENS in new construction.
Instead of pouring over plans for hours, you can look at the project in minutes and take measurements – and because you're looking at an existing building, there are very few if any surprises.
The facility manager does not want the lowest price, he wants the LEAST HASSLE for the BEST VALUE. If you've painted for him before, he's not eager to "try his luck" with another painter.
THE SAD FACTS – Many owners spend their careers chasing tons of low-bid new construction commercial work but only getting a small percentage of what they bid. When you do get a project, the profits are thin and one mistake can throw thousands down the drain.
If 99.99% of all buildings are already built, why are you chasing after the most competitive .01% of low-pay, high-hassle, new construction commercial jobs?
The reason most painters get stuck in the doom-loop of new commercial painting is because they do not have a marketing system for finding commercial repaint contracts for maintenance painting.
If you want to find more commercial repaint leads and projects, fill out the form on this page to request your free audio CD, written report, and video training series that reveals exactly how our Core 5 System teaches you how to find, sell, and keep commercial repaint contracts!
The 5 Keys for Success in ANY Economy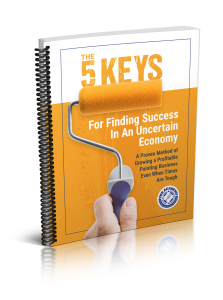 Discover the key to unlocking the hidden income potential in your painting business.
Hear What Other Members are Saying:
"Our first campaign reached $60,041.98! That's a huge percentage of our annual sales! You don't pick the peach orchard just one time. Different peaches ripen every day. Thanks for encouraging us to keep after it!"
"15 requests for quotes and closed and/or completed $23,000 of work and I still have a few more to do. Conservatively this campaign will net $25,000 in found money in the first 45 days! Thanks Brandon!"
"This year has been the biggest year of growth for us. We're double where we were last year. I realized the real money in this business is in the marketing of the services - not the doing of the services."
The 5 Keys for Success in ANY Economy
Discover the key to unlocking the hidden income potential in your painting business.