How to Generate More Reviews for Your Painting Business

Getting reviews for your painting business is essential for a lot of things. Number one, it really does help with SEO. And if you ever need help with that, John, in my office, builds painting contractor websites exclusively. So if yours isn't generating leads, isn't optimized, looks bad, looks dated, isn't functional, whatever it is, reach out to us, we're happy to help you. But in addition to SEOs, reviews play a large part in conversion. And not only conversion on your website as people begin to look through painting contractors and they may even see people that are in the top three or on page one, but they also check out their reviews and if the reviews aren't good, or the reviews aren't in high enough quantity, either of those things can keep someone from requesting an estimate from your company. You can quickly see how much value lies within customer reviews, so it's crucial to have a strategy in place that will help you consistently grow your total number of online reviews. In this video, I go over some simple techniques that can help you quickly acquire more positive reviews for your painting business.
So number one, it helps you get found. Number two, it helps you convert. And number three, if you are smart and if you have a good sales process, you can take all that social proof and put it into tools like what we teach our guys to use in the power paint presentation process, such as the company story, the post positioning packet, or the consumer buyers guide.
So, How Do You Get These Reviews?
You can run your past client list through campaigns, and that can be marginally effective. And I use it here at my company. We help other companies to use it, but it is never in a million years going to be as effective as what I'm about to talk to you about. And I've watched people use this to go from zero to 300 reviews in a year because they had enough volume to do it. So here we go.
So, the first thing is, you've got to incentivize your crew leaders to get reviews. You got to pay him something and it needs to be significant. $25, $50 a review, it's money well spent, I promise. Number two, you need to track it. You need to track it. Every meeting for your review, who got what reviews, if it's important, it needs to be tracked. And monthly, I'd have a contest. Whoever got the most reviews, this month gets X. I promise you, when you track something, it improves. When you track it and report it, it improves exponentially. And when you track it and improve or track it rather, report it and incentivize it, it will become part of your internal company culture.
Creating a Review Link
So functionally, the easiest way to do this, in my opinion, is right at the end of the job, what you need to do before that, let me back up here, is get a shortened URL that directly to your Google My Business page. Now you can get reviews from other social media platforms. That's fine, but typically Google My Business is where you need to start first. So you can get that link by getting into your Google My Business dashboard. There's also a tool that works about 60% of the time to generate this link. It's called Whitespark Google My Business Review Link Generator. That's a lot of words. But research or just Google Whitespark Google My Business Review Link or something like that and it should pull up.
About 60% of the time, I can locate a business with that. And often when I first have people join, I'll send them that link so that they can get reviews as they go through customer reactivation and reply to clients. But if you can't get it there, you're going to have to actually go into your Google My Business page and there's a place where you can get a direct link and you need to test it to make sure that it works for mobile. Okay? If it works for mobile, you click that button. The review shows right up. If it's the wrong link or if you just try to go in there and copy that big, long link on desktop, you'll click it and it'll take you to your Google My Business profile, but it will not take you directly to the reviews, which means now the client's got to scroll down and figure out how to write your review and that's going to really hurt your conversions.
So once you have that link, take it to a URL shortener. Bitly is one of them. There's a lot of other URL shorteners. Make sure it's one that mobile carriers have not banned. There's some of them they have. And by the time you watch this video, they may have banned the one that I've recommended. Who knows? Because it gets abused by people. But get a link shortener. And then just create a very simple text that says something to this effect. My company evaluates me based on the reviews I get. If I did a good job for you at your home, please consider writing a review for me, it would help a lot. Something like that, okay?
Setting Up the Review Request Template
Make it about the crew leader, not about the company because people will feel a lot more obligated to help that man or lady who's been at their job for two or three days, two or three weeks. They care more about those painters than they care about your company, because they'd had a lot of experience with those painters and there's a personal connection that's not as strong as it is with the estimator or anybody else just because they saw them working hard for days or weeks, okay? So all you do is you have your crew leader at the end of the job, text that simple little message to them say, "Hey, could you save that pulled up on your phone?" And then, this is a good thing to do, say, "Would you mind clicking on that link? I just want to save it pulls up." And it pulls up. "Oh, would you mind just tapping a quick little review for me?" It really helps. They evaluate my performance based on whether or not I get reviews or not. A lot of guilt there. Guilt is a great motivator, okay?
So if you do that and if you can get, for example, if you've got five crew leaders, and you can get them doing it half the time, about 60% of those people are going to do that. So if you do 100 jobs a year and half of them are doing it, well, that's 50 jobs. And if they do it 60% of the time, that means you're going to get 30 reviews in the course of a year. And then if you want to on the jobs that do not get reviews through the crew leader, you can just simply send a text and do a follow-up, call from the office, or you could do it personally. But the timing is essential, needs to be right there. When the job ends, people are not going to review you weeks or months after a job is over. They will, but again, the conversion is going to be low.
So you want to get that stuff going as early as you can. And if you do that, it's just a numbers game. And if you do it every time, I promise you quickly, you can have more reviews than anybody else in your market if you process enough volume or even you can even have more reviews processing a third of the volume of your next competitor, if you do this better and with more frequency because if they're not doing it, they're just not going to get them. Organic reviews this day and age, yeah, you'll get them, but you're not going to get enough of them without putting effort into it to really move the needle in SEO or conversion, or to help you in your sales process.
Need Help With Setting Up a Review Generation Process?
So I hope this helps you get online reviews. I've watched this process work for hundreds of painting contractors. I've never seen it fail to work unless the owner just did not continue to work with this crew leaders to incentivize and to track and promote this. So if you do that in your painting business, I promise you your online reputation will improve. And if you ever need help with things of this nature, contact our office. This is what we do 24/7, seven days a week, 365 days a year. We help painting contractors grow bigger, better businesses. Brandon Lewis with The Painter's Academy and Painter's Weekly. Talk to you next week.
The 5 Keys for Success in ANY Economy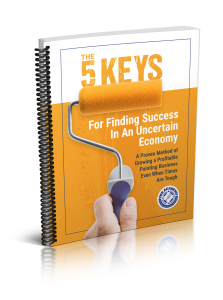 Discover the key to unlocking the hidden income potential in your painting business.
Hear What Other Members are Saying:
"Our first campaign reached $60,041.98! That's a huge percentage of our annual sales! You don't pick the peach orchard just one time. Different peaches ripen every day. Thanks for encouraging us to keep after it!"
"15 requests for quotes and closed and/or completed $23,000 of work and I still have a few more to do. Conservatively this campaign will net $25,000 in found money in the first 45 days! Thanks Brandon!"
"This year has been the biggest year of growth for us. We're double where we were last year. I realized the real money in this business is in the marketing of the services - not the doing of the services."
The 5 Keys for Success in ANY Economy
Discover the key to unlocking the hidden income potential in your painting business.