Online Marketing Tips for Painting Contractors

Many painting companies struggle to attract sustainable customers and cultivate long-term business relationships. This comes as a result of not attending to marketing strategies and poor business plans. Rather than focusing on developing an effective marketing plan, most painting contractors focus their energy on the painting itself. Outlined below are some simple and easy-to-implement online marketing tips for painting contractors.
Claim and Grow Your Google My Business Listing
Google My Business listings contain essential information about your business, including your location, contact information, and hours. Additionally, it provides customers with the opportunity to leave a review. Most importantly, Google My Business listings are one of the first things that show up when people search your business name online. By putting time into creating an accurate Google My Business listing, you can gain valuable exposure to a large range of people.
If you have yet to claim your Google My Business listing, it is essential that you do so. After claiming, make sure all the information displayed in your listing is accurate and add any information that isn't currently included. Also, be sure to go through all the existing reviews and reply accordingly. If a client has left a good review, reply with a quick message thanking them for their business. Conversely, if a client left a bad review, send a polite response detailing how you're working to resolve the issue.
Create a Website
Building a website is an overwhelming task. Luckily, the internet is saturated with easy-to-use platforms for website creation. When you start the process of building a website, a great strategy to reduce any stressors that may deter you from finishing is to design a relatively simple website. In the beginning, you don't need a complicated website. An effective, simple website should include your contact information, a description of your company and its provided services, positive reviews, and links to any social networks you're using.
Implement Basic Search Engine Optimization (SEO) Tactics
As you build a website and create content for it, it is important to consider the phrases and terms—or in SEO terms, keywords—that people are using to search for the services you provide. Using the keywords that people are using in their online searches will help increase your internet exposure and, in doing so, attract new customers.
Consider a Company Newsletter
Mail is an effective way to spread the word about your company and its services. Today, digital mail like newsletters is becoming an increasingly popular way of gaining business exposure. To avoid sending out individual emails to your customer base, you can implement a software program to automate the process for you. This allows the computer to do the heavy lifting for you.
Use the Business Coaching Services at Painter's Academy to Increase Your Profits
As a painter, becoming business savvy is the best way to increase your profits. Taking the time to invest in the business side of your company will help you gain the leads, contacts, and clients that create a profitable business model. With hard work and dedication, you can watch your business grow, expand, and excel.
At Painter's Academy, we know the struggles painters face in becoming successful business owners, and we're here to help. With over 13 years of experience helping painting businesses grow, we have the expertise to take your business to the next level. Our services have a proven track record of helping painters develop the revenue streams and gain the contracts that provide profitable returns. If you want to grow your painting business, call today at (423) 800-0520 or fill out our online contact form.
The 5 Keys for Success in ANY Economy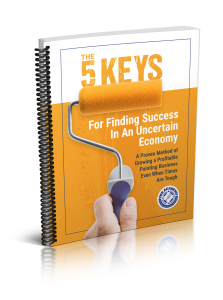 Discover the key to unlocking the hidden income potential in your painting business.
Hear What Other Members are Saying:
"Our first campaign reached $60,041.98! That's a huge percentage of our annual sales! You don't pick the peach orchard just one time. Different peaches ripen every day. Thanks for encouraging us to keep after it!"
"15 requests for quotes and closed and/or completed $23,000 of work and I still have a few more to do. Conservatively this campaign will net $25,000 in found money in the first 45 days! Thanks Brandon!"
"This year has been the biggest year of growth for us. We're double where we were last year. I realized the real money in this business is in the marketing of the services - not the doing of the services."
The 5 Keys for Success in ANY Economy
Discover the key to unlocking the hidden income potential in your painting business.