How to Follow Up with Sales Leads for Painting Contractors

A successful marketing campaign will be followed by an influx of fresh new leads that will hopefully convert to customers. However, just because your campaign generated a bunch of new leads doesn't mean they are guaranteed to generate business. The key to turning your leads into sales is developing a strategic follow-up plan. Here are some tips painting contractors can use to follow up on their leads and increase the likelihood that they turn into sales.
Start by Segmenting Your Leads
Each lead will have its own source, and the channel it came from will determine the appropriate messaging you should use. For example, a lead that came from a paid Google Ad versus one from a newsletter are at different points in the sales funnel and will require different communication strategies to transpire into a sale.
After you get a new group of leads, you should segment them into groups that are in the same part of the sales funnel. Once you have segmented groups of leads, you can approach them with personalized messaging. Painting contractors who don't have the time to manually separate leads should consider using a lead software program. There are many lead software programs available that assign points to leads, allowing you to identify and invest in the ones that are the most valuable.
Develop a Lead Follow-Up Strategy
After you receive a new influx of leads, it is important to develop a lead follow-up strategy. If you segmented your leads, you should take a look at your existing marketing resources and decide which communication channels will be most effective in converting different categories of leads. Outlined below are some best practices for lead follow-up.
Personalize Your Messaging
Sending out a uniform message to all your leads is not going to get you very far. In order to capitalize on the value of your leads, it is imperative to personalize your communication and messaging. For example, including the recipient's name in your correspondence and sending them information that is related to the pages they have visited on your website is a great way to grab their attention.
Utilize a Variety of Communication Channels
Different leads come with preferred methods of communication. However, when you receive a new batch of leads, you don't know which communication channel will be most effective for each individual lead. Therefore, to increase the likelihood that your message is received, it is important to send responses across a variety of communication channels. To cover all your bases, use social media, email, and phone calls to connect with potential customers.
Implement a Follow-Up Schedule
Since it usually takes 6–10 points of contact to convert a lead, it is important to create a consistent follow-up schedule. Creating a follow-up schedule will help you continue communications with potential customers and prevent leads from falling through the cracks.
Use Expert Business Coaching Services from Painter's Academy to Grow Your Painting Business
Developing an effective marketing strategy is the first step to growing your painting business. In order to generate revenue for your business, the leads that follow a marketing campaign will require special attention. Taking the time to segment your leads, create personalized messaging, and develop a follow-up schedule will help ensure that they convert into sales.
At Painter's Academy, we know the struggles painters face in becoming successful business owners, and we're here to help. With over 13 years of experience helping painting businesses grow, we have the expertise to take your business to the next level. Our services have a proven track record of helping painters attract the valuable leads and gain the lucrative contracts that provide profitable returns. If you want to grow your painting business, call today at (423) 800-0520, or fill out our online contact form.
The 5 Keys for Success in ANY Economy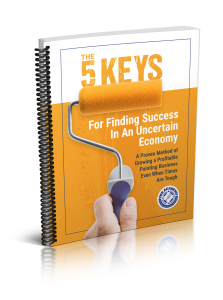 Discover the key to unlocking the hidden income potential in your painting business.
Hear What Other Members are Saying:
"Our first campaign reached $60,041.98! That's a huge percentage of our annual sales! You don't pick the peach orchard just one time. Different peaches ripen every day. Thanks for encouraging us to keep after it!"
"15 requests for quotes and closed and/or completed $23,000 of work and I still have a few more to do. Conservatively this campaign will net $25,000 in found money in the first 45 days! Thanks Brandon!"
"This year has been the biggest year of growth for us. We're double where we were last year. I realized the real money in this business is in the marketing of the services - not the doing of the services."
The 5 Keys for Success in ANY Economy
Discover the key to unlocking the hidden income potential in your painting business.