Canada Painting Contractor Business Coach Marketing Sales Estimating Operations

For painting contractors in Canada looking for a business coach – or simply need marketing, sales, estimating, or operations systems that work for a painting company, pickings can be S-L-I-M…
Neil in Canada talks about all the "marketing programs" he tried in the past that did not work. Maybe you know the feeling.
As an APPC member, he excelled and conquered these common painting problems:
1 – Beating Low-Priced Canadian Painters who Constantly Undercut Value
2 – Hiring and Retaining Quality Painters (Even When Your Local Labor Market is Challenging)
3 – Generating High Quality Leads with Consistency Each and Every Month
4 – Making Through the Rough Canadian Winter in a Profitable Manner
5 – Breaking Into the Lucrative Commercial Repaint Market
6 – Managing Field Operations Profitably
7 – And a Lot More
If your painting company in Canada needs business coaching, consulting, or done-for-you systems that work, make sure you do ONE THING before you leave this pager… Request your free report, audio program, and video training series: The Secret Systems for Easy Repaint Profits.
This resource reveals how the most profitable Canadian painters are transforming their businesses! And you can too!
Here's what Neil had to say…
Hi there. My name's Neil Carter from Carter Painting. I'm a painting contractor out here in Hamilton, Ontario, Canada. I have been an APPC member for just about a year now. I joined, I believe, last February. It's made a real tremendous difference not only in business, but in my life. I'm not just saying that. I have literally doubled my sales from 2014 to 2015. That was with starting in the middle of February. Really not even having a full year of getting things rolling.
You know, what I'd say to anybody that's sitting on the fence and contemplating spending a few extra dollars a month on this system that Brandon's put together is, it is the best money you will ever spend. It's a turnkey system for people that are willing to put the time in and actually follow instructions. You are gonna see phenomenal results in your sales, in your staffing systems, in your hiring/recruiting painters, as well as customer reactivation and customer retention. Very, very powerful stuff. It's nice to work with a guy that actually's been there and he knows what he's talking about, not somebody that's just read a book about the subject and is trying to sell you their system that they have on the internet.
You know, I'm your typical run of the mill painting contractor that's been a one-man show for the last 10 or 15 years. I've just recently made the leap into getting out of the bucket, as they say. I'm thrilled about that. 2016, I'm not gonna be picking up a paint brush. I'm gonna be using the tools that Brandon's provided me with and hiring the right people and getting the jobs done using systems, which is something I've never done before.
Anyways, what else can I tell you? You know, I'm also a platinum member, using Brandon's one-on-one mentoring program, which has been invaluable. It really helps to have somebody there to kind of give you the accountability that you need in order to follow through with some of these marketing initiatives that we go through in the program.
Another great thing is there is a support group and a support call every single month, where you get to talk to different painting contractors all over not only the states, but also Canada. You can bounce ideas off each other. It really helps because these guys are in the same boat as us and we're noncompeting, so really, really helpful stuff.
What else can I tell you here, guys? You know, if you really want to make a difference in your life, the quality of your life, your income and your earning potential to actually provide the kind of life that you want for your family, I suggest signing up for this program. Don't worry about the investment because it's the best money that you'll ever spend on marketing period. It's been for me. I'm looking at having the best year ever coming up in 2016 and doubling my business again.
Go ahead and request the free report on this page. Sign up on that form right there. It'll be the best decision that you've ever made. Thanks for listening to me, guys. I wish you all the best.
Brandon Lewis, MBA
Founder – The Academy for Professional Painting Contractors
Publisher – Painters' Weekly
The 5 Keys for Success in ANY Economy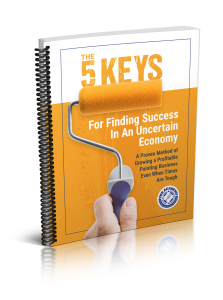 Discover the key to unlocking the hidden income potential in your painting business.
Hear What Other Members are Saying:
"Our first campaign reached $60,041.98! That's a huge percentage of our annual sales! You don't pick the peach orchard just one time. Different peaches ripen every day. Thanks for encouraging us to keep after it!"
"15 requests for quotes and closed and/or completed $23,000 of work and I still have a few more to do. Conservatively this campaign will net $25,000 in found money in the first 45 days! Thanks Brandon!"
"This year has been the biggest year of growth for us. We're double where we were last year. I realized the real money in this business is in the marketing of the services - not the doing of the services."
The 5 Keys for Success in ANY Economy
Discover the key to unlocking the hidden income potential in your painting business.