Why Painting Estimate Follow-Up Is Key: Kevin from The Bronx Lands an Easy $11,000.00 Because He Took One More Bite at the "Big Apple"

CAUTION: Before you read this article, I need you to open your mind, turn off your "we do that already" prejudices, and simply think about how you could do this better. Trust me – you can!
How do I know you could do this better? Because I talk to 3-4 painting contractors each day who STINK at doing this and it costs them THOUSANDS of dollars each year.
And No. I'm not just talking about "the little guys." I'm talking about the BIG GUYS with respectable sales who neglect this simple, easy way to "get more mileage" out of a seemingly "bald tire."
I'm talking about estimate follow up. You may not believe me when I say this, but it's the absolute truth: I talk to BIG companies every day who do not even follow up on their estimates – at all. Most make a single follow-up call and maybe send a second email – but that's it.
A small minority actually do follow-up the right way. The way that makes a HUGE difference to bottom-line profits each year.
To truly succeed, follow up must be varied in medium type, consistent, and timed right for maximum impact. We teach APPC members how to do this with the Power Paint Presentation Process™ using a specific, systematic approach.
In the email below, Kevin discovers the "magic" of good follow-up and just how much "profit" can be in it if you are thorough and committed:
To: Brandon@PaintersAcademy.com
 From: granahank@email.com
 Date: Fri, 1 May 16:54:08
 Subject: Job Follow Up
Brandon, I just wanted to let you know that I called the client about the job I talked to you about who wasn't getting back to me. He's a dentist and when I called I got the receptionist and she got back to me to say he was on the phone.
So I figured I'm getting the run around again. But a voice in my head said email him anyway and this time I worded my email to sell myself more professionally, letting him know I have over 20 years' experience, was very competent at the work involved, and had the refs to prove it.
Low and behold he got back to me by email later that day to say sorry about the delay and yes he wanted to go ahead with the work (an 11,000 dollar job), but that he wanted the work done in two phases.
Just wanted to thank you for the extra push! Kevin.
Sometimes, as painters, we walk around "hungry" for the next estimate because we only take one or two "bites of the apple" before throwing the new lead away. This is wasteful because you've already invested so much time and money in getting the lead and running the estimate.
So, take another "bite" – or seven! When you implement a professional-grade follow up system, you WILL grow profits at virtually zero cost.
Do you feel like your losing money because your estimate process is less than thorough? Would you like to close more painting estimates at higher prices, but seem to be loosing out to the "low-price guys?" Then click here to talk to us about improving your process – and put more profits in your pocket!
The 5 Keys for Success in ANY Economy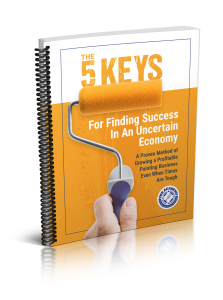 Discover the key to unlocking the hidden income potential in your painting business.
Hear What Other Members are Saying:
"Our first campaign reached $60,041.98! That's a huge percentage of our annual sales! You don't pick the peach orchard just one time. Different peaches ripen every day. Thanks for encouraging us to keep after it!"
"15 requests for quotes and closed and/or completed $23,000 of work and I still have a few more to do. Conservatively this campaign will net $25,000 in found money in the first 45 days! Thanks Brandon!"
"This year has been the biggest year of growth for us. We're double where we were last year. I realized the real money in this business is in the marketing of the services - not the doing of the services."
The 5 Keys for Success in ANY Economy
Discover the key to unlocking the hidden income potential in your painting business.