Painting Company Business Coach

Are you looking for a coach or consultant for your painting company or business? Is it right for you?
Maybe. maybe not…
When you first started your painting business, were you excited about how it could transform your life?
I was thinking about this very subject when Kristin and I were sitting on the beach this weekend. So, I thought I'd write this quick post for you…
I thought about how much my painting business changed my life – my income, free time, and how it let me free myself from debt and it worry it causes. Are you where you want to be?
The reason I ask is this: Week after week, I get on the phone with owners who are living where they don't want to live, driving cars they don't want to drive, and doing things they don't want to do.
You may think that your situation can't be dramatically improved at all. That painting is hopeless.
Or, you may already have a successful painting business but want more out of it, but you're afraid it will mean dramatic changes.
Even successful painting contractors need a business coach! I personally work with two different coaches: One advises me on the the APPC's digital marketing services for painting contractors and the other advises me on membership retention.
You see, I'm a true believer that a proven mentor can get you twice the results in half the time.
Here's the truth: There are only seven metrics that really matter in your painting business and five business systems that control them.
Here's my promise to you: If you get on the phone with me for 60-minutes, I will give you a detailed analysis of exactly what you need to do to improve the financial performance of your painting business.
And I'll do it free of charge.
All you have to do it reply to this post, visit the contact us page, or call me at 423-800-0520. We'll set up a time to talk that works for both of us.
I'll coach you through the steps you need to take to make your painting company more profitable.
What do you think ?
Not ready for a call? Request the free report, CD, and video training series on this page!
It's a good place to start your coaching and consulting journed for painting contractors.
Brandon Lewis
Painting Company Business Coach
The Academy for Professional Painting Contractors
The 5 Keys for Success in ANY Economy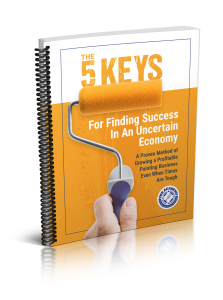 Discover the key to unlocking the hidden income potential in your painting business.
Hear What Other Members are Saying:
"Our first campaign reached $60,041.98! That's a huge percentage of our annual sales! You don't pick the peach orchard just one time. Different peaches ripen every day. Thanks for encouraging us to keep after it!"
"15 requests for quotes and closed and/or completed $23,000 of work and I still have a few more to do. Conservatively this campaign will net $25,000 in found money in the first 45 days! Thanks Brandon!"
"This year has been the biggest year of growth for us. We're double where we were last year. I realized the real money in this business is in the marketing of the services - not the doing of the services."
The 5 Keys for Success in ANY Economy
Discover the key to unlocking the hidden income potential in your painting business.