Marketing and Leads for Commercial Maintenance Painting Contracts

This month, several of our APPC members have been KILLING IT in the commercial repaint market with our Commercial Repaint Lead Generation Campaigns™.
We've seen hundreds of thousands of dollars in sales close in the last two months alone, not to mention the long-term identification of key decision makers and several WHALE-SIZED bids that are set to close in early 2016 for our members.
Make no mistake: This is the PERFECT time of year to approach facility and
maintenance managers because of three important reasons.
1) They're spending any leftover 2015 funds, and…
2) They're preparing budgets for 2016, and…
3) Maintenance and facility managers WORK during the holiday breaks!
It often baffles me why painters only have 5-10% commercial repaint work in their annual gross revenue numbers when the profit margins are higher, ticket prices are larger, and it requires requires less administrative overhead per project than residential. Anyway, I digress in my puzzlement and amazement…
While APPC members understand the secrets of targeting a carefully chosen group and using multi-step and multi-medium marketing to generate hot leads with specific deadline-driven programs in the commercial market, I thought you'd like to hear that there's someone else "singing from the same song book" (even if it's not remotely as programmatic as our approach.)
Last month, while attending a marketing summit in Denver, CO, I also worked in a visit with Joe. He was the #1 commercial light bulb consultant in the Denver area for over 25 years! He also happens to be married to my wife's cousin!
Many painters struggle to get just a FEW commercial repaint contracts per year.
Could you imagine if you had to LIVE off 100% commercial repaint work?
Now, imagine you had to do that with a "commodity" like lightbulbs! And you thought painting was tough…
Joe did this successfully and exclusively for over 25 years. Here are three BIG points he wanted me to share with you…
#1 Pick a Manageable List Size – Joe said one of the big secrets in being successful with facility managers and maintenance managers is thorough follow-through and follow-up. "Essentially, you have to say 'You're going to be my customer one day. Maybe not today, maybe not next month, maybe not next year – but eventually I'll win your business.' It's hard to win business if you're spread too thin."
Joe tells a story about a huge account he was going after. He continually mailed, called, and stopped by for over 18 months. One day, Joe's phone rings… "It was this guy I had been after for a long time. He had a ton of large commercial buildings in downtown Denver. I met with him about a new type of bulb that would save him money. I left his office with over 13 building manager contacts and a letter of introduction. Over the next year or so, we changed out every bulb in every building and I worked with him until I retired. The annual recurring revenue was huge for me!" If Joe had spread his attention and resources too thin, he would have never closed this massive deal!
#2 Facility Managers Are Never Appreciated – You may not realize this, but most people go through their lives feeling like they aren't appreciated or respected nearly as much as they should be. Joe said this goes double for maintenance and facility managers.
"They stick these guys in a basement and the only time they hear from anyone is when there's a problem in the building. People are always mad when they call and even when the problem gets fixed, no one thanks the building manager," Joe said.
To fix that, Joe would run building-specific energy savings reports so these facility and maintenance managers could present them to the COO's and get recognition for saving the business money. He also sent them gifts, made small gestures of appreciation, and kept up with them personally.
"I kept a list of the names of their wives and kids on notecards. I knew their anniversaries. I knew where their kids went to school and what sports they played. They were more like friends than clients. Sometimes, I swear I think they'd call and place orders just so I'd come by and visit them," Joe laughed.
You see, Joe knew that prospects only buy from people they know, like, and trust – especially in a B2B environment. Do your commercial clients consider you a friend or just another "vendor" hawking his wares?
#3 Get Creative and Over-the-Top – Joe points out a very important marketing mantra that I'm constantly repeating to APPC members: Look around at what everyone else in your market is doing, and DON'T DO THAT! Most often, it's the deaf, dumb, and blind leading the deaf, dumb, and blind. Instead, walk a different path…
"There was a BOMA (Business Owners and Managers Association) group that met in Denver, CO which was next to a market where I did really well, Fort Collins, CO. Most of the facility managers and maintenance managers in Fort Collins never went to the Denver meeting because it was too far away.
"These guys only had an hour for lunch, so they couldn't get all the way down there and back in time. So, I got all my names together and sent out an invitation for the 'Fort Collins Building Managers Association.' It was just an informal get together at lunch, but it eventually grew to a pretty big group and lasted for years. Guess what? I ended up with all the members' business because they appreciated what I did for them," he said with real pride in his voice.
Joe and I had a GREAT time visiting together. We talked about business for over three hours and Kristin's relatives probably wondered what was so interesting about light bulbs! You could really tell that Joe LOVED what he did. He was good at his job – you could hear it in every story he told.
Why This Matters to You… NOW!!!
Commercial repaint work is a large, untapped market. Most facility managers and maintenance managers have not heard from a painter in Y-E-A-R-S! I know because I've surveyed them about it.
If you'll use proven strategies to research, lead generate, sell, and retain this underserved sector of the market, you can watch your profitability and stability GROW exponentially! Now, get out there and close those large, commercial contracts in your area before the season draws to a close!
Make a commitment NOW to GROW your mix of commercial repaint work in 2016!
Need help growing your percentage of commercial repaint work? Call us at 423-800-0520 or CLICK HERE TO SEND A MESSAGE! We'll set up a free, no-obligation marketing system assessment and diagnostic call for your painting business!
The 5 Keys for Success in ANY Economy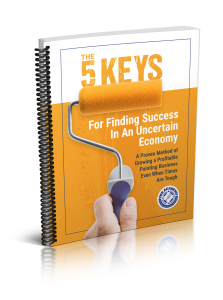 Discover the key to unlocking the hidden income potential in your painting business.
Hear What Other Members are Saying:
"Our first campaign reached $60,041.98! That's a huge percentage of our annual sales! You don't pick the peach orchard just one time. Different peaches ripen every day. Thanks for encouraging us to keep after it!"
"15 requests for quotes and closed and/or completed $23,000 of work and I still have a few more to do. Conservatively this campaign will net $25,000 in found money in the first 45 days! Thanks Brandon!"
"This year has been the biggest year of growth for us. We're double where we were last year. I realized the real money in this business is in the marketing of the services - not the doing of the services."
The 5 Keys for Success in ANY Economy
Discover the key to unlocking the hidden income potential in your painting business.