Kyle Goes from Two Painters to SIX & Systematizes Painting Estimate Processes to Increase Conversions, Accuracy

"Owners get in the mindset that 'this is just painting', so owners take their businesses for granted and let things slip. I'm amazed at how you can easily be so much better than your competition simply by using a few proven systems," Kyle told me as we spoke for this month's edition of the MRPS Newsletter™.
Kyle has been in the painting industry for 15 years. He has recently gone from TWO painters to SIX in the field and is working through a healthy nine-week backlog of exterior repaints on his production schedule.
Right now, Kyle is focusing on standardizing his estimate methods using the PowerPaint Presentation Process™ from the APPC.
Kyle is focusing not only on the budgetary elements such as the calculations of labor, materials, overhead, and profit margins, but he's also focusing on the more important elements of the process – the selling of value and higher prices to the end consumer! This is where most painters completely miss the point of estimating!
Giving a price is what a clerk does at Wal-Mart when they ring up your groceries. Giving a professional, proof-building, trust-building presentation that commands higher margins is what successful entrepreneurs do!
"I feel a lot better now that I'm looking at ALL the aspects of estimating. My process is becoming more clear, 100% measurement-based, and I'm working toward saving time and increasing conversion by doing estimates on-the-spot," Kyle told me as we discussed his plans for the future.
Kyle is married to his wife Katie and they have two children. His son is named Mazzino (3) and his daughter is named Solana (6.)
"We spend our free time hanging out at the pool and going for bike rides as a family. I also coach a kids' soccer team and I really enjoy that," Kyle said with a smile in his voice.
Like so many painting contractors who join the APPC, Kyle now has a new outlook and new excitement about his painting business.
"I'm looking at my painting company as a real business now. I love the idea of building equity and I certainly never realized how powerful and valuable my customer list was. I'm very excited about the future!" Kyle stated.
Kyle, we're excited about you too! Your vision of a brighter future can be made a reality – and we'll help you get there! Great work Kyle!
Want to feel excited about your painting business again? Click here to set up a time to speak with an APPC Enrollment Adviser. You may spend the rest of your life in the painting industry. you might as well learn to love what you do – and make money doing it!
The 5 Keys for Success in ANY Economy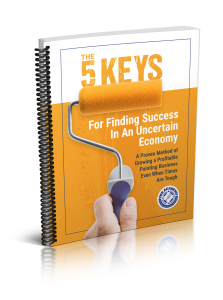 Discover the key to unlocking the hidden income potential in your painting business.
Hear What Other Members are Saying:
"Our first campaign reached $60,041.98! That's a huge percentage of our annual sales! You don't pick the peach orchard just one time. Different peaches ripen every day. Thanks for encouraging us to keep after it!"
"15 requests for quotes and closed and/or completed $23,000 of work and I still have a few more to do. Conservatively this campaign will net $25,000 in found money in the first 45 days! Thanks Brandon!"
"This year has been the biggest year of growth for us. We're double where we were last year. I realized the real money in this business is in the marketing of the services - not the doing of the services."
The 5 Keys for Success in ANY Economy
Discover the key to unlocking the hidden income potential in your painting business.