Increasing Sales and Profits In Your Painting Business

My partner and I spent years looking for ways that we could grow our business and make it more profitable.
We'd learned about estimating. We'd learned about bookkeeping. We'd learned about operations. We were still just where we were. We never could figure out how do you find these people that need to get something painted, and how do you get them to hire you to paint it?
When we found Brandon and the APPC, and we sat down for a diagnostic call with him, I was impressed with the things that he had to say because he minced no words about the state of our business.
I was concerned about the amount of money that we were going to be spending on joining this group and was this really going to be something that was going to work for us. After being in it for a few months, we went ahead and went up to the platinum group when he had a spot open because we were seeing this value.
Having been in the platinum group for about a year now, we have tripled our crew size. We're on pace to more than double our sales probably by the end of third quarter. Our closing rates have increased appreciably. They're right about where they should be, around 40 to 50% or so. All that is because of the things that we learned from Brandon.
If you're concerned about, "I don't know if this is going to work. This is probably just another one of those things."
Seriously, have this diagnostic call with Brandon. Let him tell you these things that are going on in your business. When you go to the doctor, you don't get mad when he tells you that you're sick. You tell him, "Well what do I need to do to get well?"
That's exactly what this diagnostic call is like. Brandon is there to help you. He would be happy to do so. He celebrates your successes, genuinely. I'm really glad that I've gotten the chance to know him. I'm glad that we decided to become members of the APPC.
If you're thinking about calling him up and making that diagnostic call, then I wouldn't hesitate. The only thing you got to be afraid of is success.
The 5 Keys for Success in ANY Economy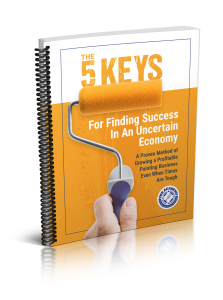 Discover the key to unlocking the hidden income potential in your painting business.
Hear What Other Members are Saying:
"Our first campaign reached $60,041.98! That's a huge percentage of our annual sales! You don't pick the peach orchard just one time. Different peaches ripen every day. Thanks for encouraging us to keep after it!"
"15 requests for quotes and closed and/or completed $23,000 of work and I still have a few more to do. Conservatively this campaign will net $25,000 in found money in the first 45 days! Thanks Brandon!"
"This year has been the biggest year of growth for us. We're double where we were last year. I realized the real money in this business is in the marketing of the services - not the doing of the services."
The 5 Keys for Success in ANY Economy
Discover the key to unlocking the hidden income potential in your painting business.