How to Strengthen Client Relationships in Your Painting Business

In business, client relationships are everything. Going above and beyond to impress existing and prospective customers will ensure that you retain past customers and attract new ones. The best way to strengthen client relationships is to focus on customer service.
The majority of customer complaints are usually tied to poor customer service experiences. Even if you have a great product or service, one negative customer experience can result in the loss of a customer. As a painting contractor, prioritizing the quality of your customer service standards will place you above your competition. Here are some tips for strengthening client relationships in your painting business.
Set High Standards for Your Staff
If you want your painting company to have consistent, excellent customer service, you need to set high standards for your employees. This starts in the hiring process. Painting contractors should thoroughly interview potential staff and hire workers they can trust and rely on. Even after you have taken the time to hire a strong staff, it is important to perform quality check-ins to ensure they are doing the job to the standard you would like. Creating a workplace atmosphere that values and prioritizes customer service often translates into strong client relationships.
Personalize Your Communications with Clients
Most customers don't like to feel as though they're communicating with a robot when they contact a business. Effective client communications require adjusting your communication approach to best suit different personalities. Since no two clients are the same, your strategies for communicating with various clients must adapt to meet their communication preferences. For example, regular updates on the status of a project may be suitable for one client while another may get irritated. Getting to know your customers on a personal level is likely to improve client satisfaction and strengthen your customer relationships.
Address Conflicts in a Timely Manner
Every business deals with customer complaints. Even if you have a high customer service standard in place, mistakes happen, and when they do, they're usually accompanied by an unhappy customer. When conflicts arise—whether in the form of an online review, phone call, or email—it is important to address them as soon as possible. By responding to negative feedback in a timely, professional manner, you can minimize the damage of a customer conflict. In business, a sincere apology goes a long way.
Use a Customer Relationship Management System
Today, there is no shortage of technological tools at your disposal. One of the most effective tech tools for strengthening client relationships is a customer relationship management system (CRM). CRMs are designed to virtually manage contact information, scheduling, and active communications. Some CRMs even allow you to send contracts electronically, making business transactions more convenient for both you and your customers. Overall, CRMs help businesses streamline their operations and maintain strong relationships with their customers.
The Business Coaches at Painter's Academy Can Help You Strengthen Your Client Relationships
As a painter, investing in your client relationships is essential. In order to retain existing customers and attract new ones, your painting company must have exceptional customer service. With personalized communications, effective technology, and strategies for responding to negative feedback, you can elevate the standard of your painting company's customer service.
At Painter's Academy, we know the struggles painters face in developing the business side of their operations, and we're here to help. With over 13 years of experience helping painting businesses grow, we have the expertise to take your business to the next level. Our services have a proven track record of helping painters develop the revenue streams and build the relationships that provide profitable returns. If you want to grow your painting business, call today at (423) 800-0520, or fill out our online contact form.
The 5 Keys for Success in ANY Economy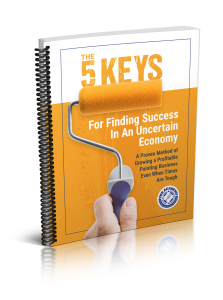 Discover the key to unlocking the hidden income potential in your painting business.
Hear What Other Members are Saying:
"Our first campaign reached $60,041.98! That's a huge percentage of our annual sales! You don't pick the peach orchard just one time. Different peaches ripen every day. Thanks for encouraging us to keep after it!"
"15 requests for quotes and closed and/or completed $23,000 of work and I still have a few more to do. Conservatively this campaign will net $25,000 in found money in the first 45 days! Thanks Brandon!"
"This year has been the biggest year of growth for us. We're double where we were last year. I realized the real money in this business is in the marketing of the services - not the doing of the services."
The 5 Keys for Success in ANY Economy
Discover the key to unlocking the hidden income potential in your painting business.