Tips for Responding to Negative Reviews for Paint Jobs

Online reviews are essential to the success of a painting company. In fact, 93 percent of consumers attribute online reviews as a primary factor in their purchasing decisions. To maintain a positive online presence, it is important for businesses to respond to both positive and negative reviews. However, there is a right and wrong way to engage with customers who leave negative feedback. Here are tips for responding to negative reviews.
The Importance of Managing Negative Reviews
Negative reviews can be extremely detrimental to any local painting business. Specifically, if your painting company has a minimal base of online reviews, any negative review can leave a crippling impact on your business.
Most of the time, choosing to ignore negative reviewers gives a company a bad look. When customers scroll through and see negative reviews with no response, it gives the impression that the company does not care about their customers or improving their business. Dealing with negative reviews head-on is always the best strategy and sometimes can even be used as a marketing opportunity.
Why Companies Should Always Respond to Negative Reviews
Ignoring negative reviews almost always has a negative impact on a business. Most businesses falsely equate a negative review to the loss of one customer. However, when you choose not to reply, you're sending a message—usually a bad one—to all of the internet users who will scroll through your reviews. Replying to a negative review is your opportunity to make things right with the reviewer and show potential customers that you are receptive to feedback and care about your customer's opinions.
A well–thought out response provides an opportunity for your business to showcase the steps you're taking to ensure whatever problem the reviewer addressed will not happen to future customers. Outlined below are the four elements that compose a successful response to a negative review.
Include a Clear and Formal Apology
When responding to a negative review, it is important to avoid beating around the bush. A successful response to a negative reviewer will include a clear and formal apology. Be sure to acknowledge your customer's complaint and express your sympathy for their poor experience with your company.
Try to Move the Conversation Off the Internet
It's important to try to move all correspondence between your company and the reviewer offline. The more you communicate via the review platform, the more exchanges all potential customers are able to see. In your response, provide the contact information of someone at your business who can discuss the problem in detail with the reviewer.
Insert a Subtle Marketing Message into Your Response
Sometimes, you can leverage your response to a negative review as a marketing opportunity. An effective response to a negative reviewer will include a description of the service your customers usually experience when they work with your company. For example, in your response, you might say, "We are normally known for our attention to detail and amiable customer service, and we're sorry that was not your experience."
Keep It Short, Sweet, and to the Point
A good response will be short, kind, and won't go into too much detail. Keeping to this strategy will prevent the irritated customer from potentially becoming more aggravated by any component of your response. In general, it is best to limit your response to a few sentences.
Painter's Academy Can Help Your Painting Business Create a Positive Online Presence
If you are a painter that is struggling to create a positive online presence, the business coaches at Painter's Academy are here to help. With over 13 years of experience helping painting businesses grow, our team has the expertise to take your business to the next level. Our services have a proven track record of helping painters develop sustainable revenue streams that provide profitable returns. If you want to grow your painting business, call today at (423) 800-0520 or fill out our online contact form.
The 5 Keys for Success in ANY Economy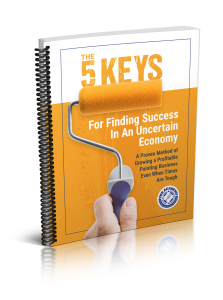 Discover the key to unlocking the hidden income potential in your painting business.
Hear What Other Members are Saying:
"Our first campaign reached $60,041.98! That's a huge percentage of our annual sales! You don't pick the peach orchard just one time. Different peaches ripen every day. Thanks for encouraging us to keep after it!"
"15 requests for quotes and closed and/or completed $23,000 of work and I still have a few more to do. Conservatively this campaign will net $25,000 in found money in the first 45 days! Thanks Brandon!"
"This year has been the biggest year of growth for us. We're double where we were last year. I realized the real money in this business is in the marketing of the services - not the doing of the services."
The 5 Keys for Success in ANY Economy
Discover the key to unlocking the hidden income potential in your painting business.