8 Steps to Develop an Effective Marketing Calendar Painting Contractors for 2015

Most painting contractors have a calendar on their desk that they use for their own personal schedule. It helps you stay on track, avoid double-booking, set deadlines, and prioritize.
There's a good chance you also have separate calendars in your business for operational, administrative, and customer service functions.
However, it surprises me how few painters have a marketing calendar developed in advance for their business, especially since your marketing calendar is responsible for driving the majority of your sales and profitability from past customers and new clients.
What Is a Marketing Calendar? – A marketing calendar is tool used to schedule and monitor marketing activities throughout the year that include ongoing efforts and episodic campaigns.
Why Is a Marketing Calendar Important? – Most of the activities we calendar and schedule in our businesses fall into the "reactionary" category. This means our business activities are often initiated by someone or something else that demands our attention and time.
Marketing is most often a self-initiated activity. So, if you do not intentionally set out to increase sales, drive profitability, or promote a new service offering, no one will call upon you, email you, or set a meeting that "forces" you to do it.
Because marketing usually requires what I call "discipline-in-advance," it is critically important to chart out a course of where you want to take your painting business through your marketing and advertising efforts.
If you do not set aside the time and resources to grow your business in a structured, thoughtful fashion, it is very likely that today's pressing concerns will rob you of tomorrow's profitability. That is the chaotic nature of a painting business and why it so important to make concrete plans to "stay the course" even though concerns in the moment work to pull you away.
Here are eight steps to create a marketing calendar that will produce results:
#1 Set Clear Objectives – Often, we unwittingly go about marketing for marketing's sake. Unclear goals and objectives like "keeping your name out there" and "building awareness" can be deadly because they do not have measurable outcomes. Define your objectives in advance and assign metrics that will allow you to declare when goals have and haven't been reached.
#2 Determine Exactly Who You're Targeting – Look at your current categories of past clients and future prospects. Break these groups down into segments that will have similar needs and desires so you may tailor your message to them in a way that will increase response rates.
#3 Craft Compelling Messages and Offers – What problems do your customers have that you can solve for them? How can you make their lives better? How can you package your services in a new and exciting way that will make current customers want to do business with you again? How can you approach prospects with old service offerings that will be seemingly "new" to them?
#4 Select Mediums That Efficiently Reach Your Target Audience – How will you reach your past and future customers with your compelling offerings? How will you measure success from a cost of lead and cost of sale standpoint? How will you allocate your resources to maximize their impact?
#5 Pair Your Mediums for Multi-Channel and Multi-Step Congruence – Once you have determined what you wish to sell and to whom, figure out how your mediums can work together. Pair direct marketing with broadcast mediums to both generate new leads and remind past customers of your service offerings.
#6 Build Your Marketing with an Eye Toward Maintenance and Campaigns – There are two categories of marketing: maintenance and campaigns. Maintenance marketing is accomplished through newsletters, e-zines, customer care calls, customer appreciation events, social media engagement, etc. Campaigns seek to use multi-channel and multi-media efforts over a concentrated period of time to produce a specific outcome. Make sure both types of marketing have a place on your marketing calendar and are identified appropriately.
#7 Calendar Your Events Around Buying Habits and Company Needs – Now that you have determined your marketing objectives for 2015, targeted your audience, and developed compelling offers, now you must anchor your marketing activities up in space and time. This is the primary purpose of a marketing calendar.
Once you have a visual representation of who you will be communicating with, what you will be communicating about, and when it must take place, you can begin "backing up" to determine what resources will be needed from a time and treasure standpoint to produce results.
#8 Don't Waver – There are always pressing concerns in the moment. There is always a temptation to "put marketing off" until tomorrow. But here's the sad fact – tomorrow always comes. It's your responsibility to make sure your business is more profitable when the "new day dawns." Time spent marketing today produces wealth tomorrow. It's well worth it!
Brandon Lewis, B.S., M.B.A.
Director of the Marketing Department
The Academy for Professional Painting Contractors
Department: 423-800-0520
The 5 Keys for Success in ANY Economy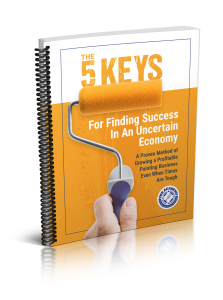 Discover the key to unlocking the hidden income potential in your painting business.
Hear What Other Members are Saying:
"Our first campaign reached $60,041.98! That's a huge percentage of our annual sales! You don't pick the peach orchard just one time. Different peaches ripen every day. Thanks for encouraging us to keep after it!"
"15 requests for quotes and closed and/or completed $23,000 of work and I still have a few more to do. Conservatively this campaign will net $25,000 in found money in the first 45 days! Thanks Brandon!"
"This year has been the biggest year of growth for us. We're double where we were last year. I realized the real money in this business is in the marketing of the services - not the doing of the services."
The 5 Keys for Success in ANY Economy
Discover the key to unlocking the hidden income potential in your painting business.