3 Mistakes on Your Painting Website
If you're not getting the best performance out of your painting website, here's a little checklist of what may be wrong.
This is something I've compiled after spending a few years constructing and optimizing websites exclusively for painting business owners.
Just like I see the exact same problems time-and-time again in operations, sales, marketing and management, the same mistakes are found online.
The good news is, they are easy to fix…
Mistake #1 –
Website is NOT Built to Be Found in Organic Search Engines
A lot of people make the mistake of thinking their personal opinion is the only thing that matters when building a website. That's ok if you are the only person who you ever want to see it.
However, if you want to be found online, you must optimize your website and GMB page to be found. Basically, this means building your website with the "bots" in mind.
Essential elements include:
– LOTS of Content (Pretty pictures are not enough. You need loads of search-optimized text)
– Stand-Alone Pages for Search Terms & Cities (Each page is like a "mousetrap" for specific high-volume or high-value search terms)
– Optimized Tagging & Coding (There are lots of little technical tips and tricks for telling the search engine what you're about)
– Recent Activity & Maintenance (Google looks at a stale website the way you look at an empty restaurant on a Saturday night. It assumes the site is not "open for business." You must update your content at least monthly)
Mistake #2 –
Website Is Not Built for Clients Informational Needs
When you've been in the painting business for any length of time, you can forget how to think like your client. This is harmful in sales, marketing and online.
Clients need to see certain things on your website so they feel comfortable that…
– Risk is Reduced in Doing Business with You
– They Feel Like You Have an Established Track Record of Excellent Service
– 3rd-Party Proof Can Be Found to Back Up Your Claims
– They Understand Who Owns and Works at the Company
– You Can Meet Their Expectations
Many painting website are either built for the owner's preferences, which are never the same as the client, or by some web company unfamiliar with the painting industry.
Mistake #3 –
Targeting the Wrong Terms & GEO Modifiers
Many painters think that you can "lie to Google" about where you are located.
Further, people think that highly competitive cities with established online competitors can be dominated in a short amount of time and with little investment or patience.
The truth is this: Most painters have less than 0.5% of their area's painting services market share.
This means you are much better off targeting affluent areas with smaller audiences where there is less competition to start. Your "domiciled" business location also plays a HUGE role in this.
If you're located in the wrong area or are going after the wrong area, you can spin your wheels far longer than it's necessary.
In Conclusion…
If you are unhappy with your current website or are looking to build your very first company website, these are some unavoidable truths you'll need to deal with.
If you need help with your online web properties from painting industry experts who care, just reply back to this email and I'll hook you up with John, our online leads specialist, here in the office.
He's helped scores of painters all over the U.S. and I know he can help you too.
If you want to learn more about what we do, click here to get our "Online Leads Cheat Sheet."
Of course, you can always just call us if you prefer at 423-800-0520.
Good luck online and have a GREAT weekend!
Take Care,
Brandon Lewis
Founder, APPC
423-800-0520
The 5 Keys for Success in ANY Economy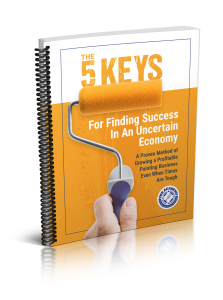 Discover the key to unlocking the hidden income potential in your painting business.
Hear What Other Members are Saying:
"Our first campaign reached $60,041.98! That's a huge percentage of our annual sales! You don't pick the peach orchard just one time. Different peaches ripen every day. Thanks for encouraging us to keep after it!"
"15 requests for quotes and closed and/or completed $23,000 of work and I still have a few more to do. Conservatively this campaign will net $25,000 in found money in the first 45 days! Thanks Brandon!"
"This year has been the biggest year of growth for us. We're double where we were last year. I realized the real money in this business is in the marketing of the services - not the doing of the services."
The 5 Keys for Success in ANY Economy
Discover the key to unlocking the hidden income potential in your painting business.