Why Your Painting Estimator Can't Close Sales at High Rates

Believe me, I understand your frustration… It's expensive to hire, train, manage and pay a full-time estimator.
It's even MORE frustrating when their estimate closing rate is low and you constantly lose to low-priced painters. Basically, you are PAYING someone to LOSE business for you. It's not good.
But if I'm being honest with you, it usually isn't the estimator's fault entirely. The owner of the business has often failed to prepare them.
Most estimators are thrown into the field without good, solid training in persuasive selling. Owners very often only teach estimators how to calculate and present a price – this never works. Ever…
Here are the four major reasons your estimator can't close at high rates…
#1 – Persuasive, Differentiating Messaging is Totally Absent – Most estimators show up, pet the dog, make small talk, then email an estimate. Essentially, they are trying to sell expensive, risky painting services like they are a pair of shoes on Amazon.
#2 – Zero Tangible, 3rd Party PROOF – Even when estimators do touch on the primary and secondary concerns using positive messaging, they fail to provide the client with proof and evidence that their claims are real. Trust me – Your clients have been LIED to and disappointed by profession-looking, branded companies in the past. They just think you are the next in line.
#3 – No Processes – The painting sales experience should be broken up into pre-positioning, post-positioning, presenting, and follow-up. Each phase requires different messaging and methods to be effective. Many painting companies fail to even communicate with clients during these essential phases.
#4 – No Done-for-You Tools – Estimators need more than just a pep talk from the owner. They need tools, templates, and presentations that keep the sales process consistent and persuasive. Without these tools, most estimators will do 100 estimates 100 different ways. That approach wouldn't work in painting and it doesn't work in sales either.
If Your Estimator Is Failing to Close at Higher Rates Against Low-Priced Painters, I'd Encourage You to Attend the Sales Secrets Pre-Day at the Painting Profits Summit!
During this training, I'll be revealing the secrets of the PowerPaint Presentation Process™. A trade-marked process I've used to raise the closing rates and prices of hundreds of independent and franchised painting companies.
This isn't just a "mindset" training… you'll walk away with…
A Comprehensive, Written Manual
4-Hours of In-Person, Interactive Training
Done-for-Your Sales Tools for…

Pre-Positioning
Presenting
Post-Positioning
Follow-Up
If your estimator is failing to perform, it isn't their fault in most cases.
Instead, they simply lack the training, tools, and mentoring they need to succeed. Sign-up your estimator – or yourself – for this comprehensive, transformative sales training!
Brandon Lewis
P.S. The Room Block Discount Expires on December 29th, 2018! Don't delay. I've NEVER done a training like this one and I may never do one again. Register now!
P.P.S. The Sales Secrets Pre-Day information is about halfway down the registration page. Scroll down.
The 5 Keys for Success in ANY Economy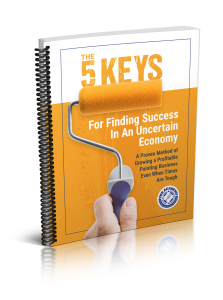 Discover the key to unlocking the hidden income potential in your painting business.
Hear What Other Members are Saying:
"Our first campaign reached $60,041.98! That's a huge percentage of our annual sales! You don't pick the peach orchard just one time. Different peaches ripen every day. Thanks for encouraging us to keep after it!"
"15 requests for quotes and closed and/or completed $23,000 of work and I still have a few more to do. Conservatively this campaign will net $25,000 in found money in the first 45 days! Thanks Brandon!"
"This year has been the biggest year of growth for us. We're double where we were last year. I realized the real money in this business is in the marketing of the services - not the doing of the services."
The 5 Keys for Success in ANY Economy
Discover the key to unlocking the hidden income potential in your painting business.