The #1 Way to Train Your Painting Staff on Processes – and Make it STICK!

It can be frustrating when staff fail to "get it right" the first time… or the second… or the third!
While you may have selected the wrong employee, don't be so quick to judge. Let me run your through a few methods commonly used by owners in the painting industry to teach staff how to perform routine business processes.
Some work, some don't.
Verbal Instructions – This is the most common way things are communicated in the painting industry. Often, the owner will hastily bark a few verbal instructions and then be on his way.
Instructions given verbally present the following problems:
– Portions of the instructions are immediately forgotten, especially if you have covered a lot of ground.
– There is no record to reference later when even MORE of the instructions are forgotten (and as time passes the instructions may even be misunderstood as they are misremembered.)
Using verbal instructions alone virtually guarantees disappointment in staff performance.
Written Instructions – "The shortest pen is better than the longest memory." When something is written down, it is presented in a clear fashion than can later be referenced.
It's not just that written instructions can be written, it is also that most people take more care when writing them vs. "off the cuff" speaking. So, the final product is better for the end user.
Tools – When you paint, you use tools – brushes, rollers, sprayers, etc. In business processes, you use tools as well. They are checklists, forms, scripts, surveys, email templates, spreadsheets, assessments, you name it.
If something is done repetitively in your business and you are trying to get staff to do it consistently, it's likely they would benefit from having a tool to assist them and guide their actions.
Video & Audio – If you find yourself giving the exact same training over and over again, record it once with a camera, Zoom screen share or audio file – as you are doing it! This gives you an evergreen tool you can use forever. This saves times and allows the staff member the opportunity to review the recording if they feel they have forgotten some element in the process.
Ongoing Coaching, Evaluation & Review – People forget things. Inexplicably, they will often just stop doing things that work… even if you've told them how important they are.
Someone once said, "We need to be reminded more than we need to be educated." There is no substitute for the boss mentoring, coaching and reminding staff members about yesterday's "advanced changes" that are today's "standard operating procedures."
Now, if you really want to teach people how to do something new and feel like you've got the best shot at making it stick… COMBINE THEM ALL!
Very often, I find myself in the position of trying to teach painting contractors with no prior business experience how to do new things like persuasive selling, job costing, recruitment – you name it.
Often, these people speak English as a second language, are in their 70's or are reluctant to use any sort of basic technology. It's not the easiest thing to do, but it's a lot easier if you combine the following…
– Recorded Audio & Video
– One-on-One Mentoring
– Peer-to-Peer Coaching
– Manuals & Checklists
– Done-for-You Tools
Basically, if the individual can follow instructions – and they have a decent work ethic – they can succeed.
So, when you train your people, never just give them the "verbal drive by" treatment and move on. If there is a repetitive process that must be done properly to succeed, "kit it up" once and use it forever.
That's what I do here at the Academy for Professional Painting Contractors and it works! The same process can work for you too with your staff in your company!
If you need help with putting processes and systems in place in your business, just reply to this email or call our office at 423-800-0520!
I'd be happy to help you and your staff build a profitable, lower-stress business you can be proud of.
Take Care,
Brandon Lewis
423-800-0520
Brandon@PaintersAcademy.com
The 5 Keys for Success in ANY Economy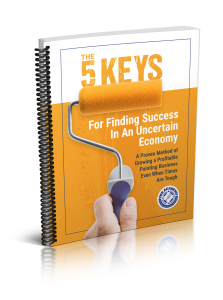 Discover the key to unlocking the hidden income potential in your painting business.
Hear What Other Members are Saying:
"Our first campaign reached $60,041.98! That's a huge percentage of our annual sales! You don't pick the peach orchard just one time. Different peaches ripen every day. Thanks for encouraging us to keep after it!"
"15 requests for quotes and closed and/or completed $23,000 of work and I still have a few more to do. Conservatively this campaign will net $25,000 in found money in the first 45 days! Thanks Brandon!"
"This year has been the biggest year of growth for us. We're double where we were last year. I realized the real money in this business is in the marketing of the services - not the doing of the services."
The 5 Keys for Success in ANY Economy
Discover the key to unlocking the hidden income potential in your painting business.