Marketing for Painting Contractors at Trade & Home Shows

I just had to brag on Omar and Torrance this morning and their Trade Show Tenacity this past weekend…
This weekend, in two separate cities, Omar and Torrance use their APPC $100,000.00 Trade Show Marketing Toolkits to take their markets by storm.
What were the results?…
86 Estimate Requests for "After Show"
18 Estimates Set "On the Spot"
245 Leads Generated for Marketing Follow Up
349 Total Leads Added to their "In-House Lists"
How long did all this take? 3 short days. Yep, that's it.
Heading into the fall and winter, it's important that we build our pipelines while market demand is still strong. If you wait to market until the "depths of winter," you'll find it much more difficult to generate high-quality leads.
However, even the painters who do "sign up" for trade shows usually approach the event without the tools they need and with the WRONG mindset.
These three attitudes KILL your results…
Lack of Engagement – Yes, you MUST engage each and every attendee that walks by. No checking facebook, chit-chatting with booth mates, or daydreaming. You must engage attendees in a way that both identifies the needs you can meet BUT does not feel "SALESEY" and off-putting.
Pull NOT Push – Many painters believe that they are attending a trade show to "get their name out there." That's Grade-A BULL. You're not there to PUSH yourself on attendees and HOPE they remember you later. No, you're there to COLLECT contact information from interested prospects in a specific, proven fashion.
Crank Up the "Juicer" – Although most painters fail to collect as many prospects as they should, in my experience they have very little idea of what to do with a lead that does not immediately book an estimate.
As a result, all the VALUE in those leads evaporates. Instead, follow up with all of your leads in a multi-step, multi-medium fashion with a "second prize" offer. This helps you CLOSE prospects who are on the fence or "interested, but not 100% ready."
If you work your area's Trade Shows using proven marketing systems, you'll discover why I repeatedly say:
"If I ONLY had ONE marketing medium to choose, and if I could control the timing, I would LAUNCH my business again using my area's BEST TRADE SHOW!"
Brandon Lewis, B.S., M.B.A.
Director of the Marketing Department
The Academy for Professional Painting Contractors
Department: 423-800-0520
P.S. Trade show marketing opportunities come and go in the blink of an eye – especially in the FALL. Make sure you check your local event calendars NOW to take advantage of them! You'll be glad you did – and so will your bank account!
The 5 Keys for Success in ANY Economy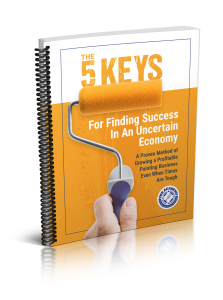 Discover the key to unlocking the hidden income potential in your painting business.
Hear What Other Members are Saying:
"Our first campaign reached $60,041.98! That's a huge percentage of our annual sales! You don't pick the peach orchard just one time. Different peaches ripen every day. Thanks for encouraging us to keep after it!"
"15 requests for quotes and closed and/or completed $23,000 of work and I still have a few more to do. Conservatively this campaign will net $25,000 in found money in the first 45 days! Thanks Brandon!"
"This year has been the biggest year of growth for us. We're double where we were last year. I realized the real money in this business is in the marketing of the services - not the doing of the services."
The 5 Keys for Success in ANY Economy
Discover the key to unlocking the hidden income potential in your painting business.