How You Can Promote Your Painting Business
Transitioning from a professional painter to a business owner can be a steep learning curve. As a business owner, you'll quickly learn that the painting itself is just a fraction of what it takes to run a successful painting company. Your profits and personal income are limited by the infrastructure of your business. Without effective marketing, sales, and operations strategies, you'll find it hard to grow and meet business objectives.  
An abundance of online resources and videos has spawned a DIY age. Increasingly, many homeowners are choosing to paint their homes themselves. Today, painters aren't just competing amongst themselves, but also with YouTube. Promoting your business and gaining leads in a competitive, digital environment takes a streamlined strategy. In 2020, most of your business leads will come from the internet, so it is important to understand how to optimize your marketing strategy for a digital audience. Here are some tips for promoting your painting business. 
The Traditional Model: Pay Per Click
Traditionally, painting companies have used pay per click (PPC) as their primary marketing strategy. In PPC marketing, companies directly buy leads—in the form of clicks—from websites that are considered to be authorities in their industry. For painters, this is usually Angie's List and Home Advisors. When users click on a displayed ad, the website hosting the ad is paid by the company posting the advertisement. 
While PPC can give you some fast exposure on the internet, it is not a marketing strategy that will produce sustainable business results. For the kind of long-term leads that create conversions, you need to focus on organic search optimization.
How Organic Search Engine Optimization Boosts Your Business
Organic search engine optimization (SEO) involves optimizing your website so that it shows up higher in a Google search for desired search phrases. Some common ways that marketers practice organic SEO include: 
Using internal and external links

Creating relevant and useful content

Ensuring their website loads quickly enough to match industry standards
Optimizing your website for organic traffic is a more cost-effective marketing approach than paid listings. While you'll probably have to hire either an in-house marketing professional, agency, or business consulting company, this will be more cost-effective in the long run than paying for ads that only generate short-term results. There are many different elements of optimizing for organic search, but some common ones include: 
Creating a Google My Business listing

Investing in a high-quality website

Posting on social media
Create a Google My Business Listing
For the most part, painting is a localized business model—homeowners tend to hire painters from their local communities. To leverage a location-based strategy, most marketing plans involve creating a Google My Business (GMB) listing. 
GMB is a free tool from Google that helps business owners build their online presence to local users. When you search for certain businesses close to you, Google will populate a list of nearby businesses and their corresponding information: hours, locations, and reviews. Creating a GMB listing will help you show up on Google's list of businesses. This is a great resource for painting companies looking to gain local exposure. 
Invest in a Quality Website
Investing in a quality website is a fundamental component of SEO. If Google's algorithm can't find—or in SEO terms, "crawl"—your website, you won't reach potential customers. Ensuring that a search engine can easily crawl your website and access your content is essential for optimizing your organic search presence. 
Post on Social Media
Social media optimization falls under the umbrella of organic SEO and is essential for any painting company looking to grow their online presence and attract new customers. Social media optimization involves strategically creating posts and connecting with your target audience. When done correctly, social media posts can generate quality leads. 
Contact Painter's Academy to Grow Your Painting Business
Transitioning from a paintbrush connoisseur to a marketing master can be a challenge. At Painter's Academy, we help new business owners in the painting industry grow and expand their companies. Our team is led by a passionate group of business professionals that have experience implementing successful strategies for growing small businesses. To speak with one of our marketing professionals, call today at (423) 800-0520 or fill out our online contact form. 
The 5 Keys for Success in ANY Economy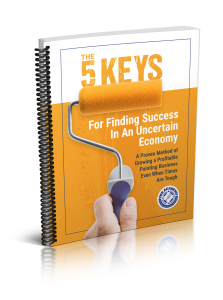 Discover the key to unlocking the hidden income potential in your painting business.
Hear What Other Members are Saying:
"Our first campaign reached $60,041.98! That's a huge percentage of our annual sales! You don't pick the peach orchard just one time. Different peaches ripen every day. Thanks for encouraging us to keep after it!"
"15 requests for quotes and closed and/or completed $23,000 of work and I still have a few more to do. Conservatively this campaign will net $25,000 in found money in the first 45 days! Thanks Brandon!"
"This year has been the biggest year of growth for us. We're double where we were last year. I realized the real money in this business is in the marketing of the services - not the doing of the services."
The 5 Keys for Success in ANY Economy
Discover the key to unlocking the hidden income potential in your painting business.