Hiring Costs to Consider When Growing Your Painting Business

In most cases, growing a business requires hiring additional employees. Whether this comes in the form of marketing professionals or administrative staff, bringing on new team members is usually an imperative part of taking your business to the next level. However, it can also be expensive; one of the most significant costs of expanding a business is hiring.
If you're a painting contractor who is considering growing your business, the business coaches at Painter's Academy can help you account for hiring costs and implement a successful growth strategy. Outlined below are some hiring costs painting contractors should account for when growing their business.
Screening Potential Employees for Your Painting Business
It's no secret that painting contractors sometimes fail to hire reliable employees. While it may take more time and resources to ensure the reliability of new hires, it usually pays off in the long run. Having a team of employees that you can't trust to show up on time and do the job will negatively affect the reliability of your business and, in turn, your bottom line. Conversely, investing in screening during the hiring process will have long-term payoffs that will benefit your company's reputation.
While there are a variety of tests you can use to screen employees, some of the most commonly used background checks include:
Identity verification
Credit history report
Drug testing
Criminal background check
Driving record
The cost of the screening process will vary depending on the type and quantity of tests you conduct. On average, you can expect to pay between $10–30 for the tests outlined above with drug testing being an outlier, costing between $30–50.
Payroll and FUTA Taxes
Another hiring cost to consider is payroll taxes. In 2020, the payroll tax for employers—commonly referred to as the FICA tax—was 7.65 percent. These FICA taxes were allocated so that 6.2 percent went toward Social Security and the remaining 1.45 percent to Medicare.
The rate for Social Security taxes is adjusted annually to account for inflation. This is referred to as the Social Security wage base, meaning the government places a wage cap in accordance with inflation in which an employer will have to pay Social Security taxes. In 2020, the wage cap was $137,700, meaning only the first $137,700 of an employee's salary was taxed. For painting contractors, this means that if you had an employee whose wages were over $137,700, you would only pay 7.65 percent in Social Security taxes on that first segment of their pay.
In addition to FICA taxes, employers are required to pay FUTA taxes, which are allocated to unemployment. In 2020, the FUTA tax rate was 6 percent on the first $7,000 in wages an employee is paid annually. However, if you file IRS Form 940, you can receive a 5.4 percent credit, which will reduce the FUTA rate to 0.6 percent. Any painting contractor looking to hire additional workers should take FICA and FUTA taxes into account.
Workers' Compensation for Painting Contractors
Depending on the laws in your state, you may be required to carry worker's compensation insurance for your employees. The rates for worker's compensation vary by state and the level of risk associated with the work. In general, you can expect to pay an average of $1.32 for every $100 in employee's wages. However, industries that pose a greater risk to employees of getting injured usually experience higher rates.
Use the Business Coaching Services at Painter's Academy to Grow Your Painting Company
The total cost of hiring a new employee can be difficult to calculate. However, it is important for painting contractors to create hiring cost estimates to ensure they are financially prepared to expand their staff. At Painter's Academy, we know the struggles painters face in growing their businesses, and we're here to help.
With over 13 years of experience helping painting businesses grow, we have the expertise to take your business to the next level. Our services have a proven track record of helping painters develop the revenue streams and gain the contracts that provide profitable returns. If you want to grow your painting business, call today at (423) 800-0520 or fill out our online contact form.
The 5 Keys for Success in ANY Economy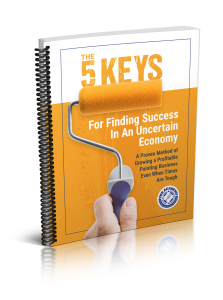 Discover the key to unlocking the hidden income potential in your painting business.
Hear What Other Members are Saying:
"Our first campaign reached $60,041.98! That's a huge percentage of our annual sales! You don't pick the peach orchard just one time. Different peaches ripen every day. Thanks for encouraging us to keep after it!"
"15 requests for quotes and closed and/or completed $23,000 of work and I still have a few more to do. Conservatively this campaign will net $25,000 in found money in the first 45 days! Thanks Brandon!"
"This year has been the biggest year of growth for us. We're double where we were last year. I realized the real money in this business is in the marketing of the services - not the doing of the services."
The 5 Keys for Success in ANY Economy
Discover the key to unlocking the hidden income potential in your painting business.