Estimating Courses and Schools for Painting Contractors That Double Estimator Closing Rates

Unfortunately, many estimating courses for painting contractors miss the mark—they focus on pricing instead of persuasion. Even if you're the best at pricing, you can still end up struggling to make a livable income and gain the lucrative projects that generate profits. This is because focusing all of your energy on price means that if you are not the lowest bid, you'll almost always lose the contract.
At Painter's Academy, we encourage painters to take a persuasive approach to setting rates. Ultimately, growing a painting business is all about persuasion. Outlined below is a simple approach to pricing and the power of persuasion in closing painting contracts.
A Simple Approach to Pricing Painting Contracts
At Painter's Academy, we recognize that many painters waste their time in expensive courses and schools that complicate the pricing structure of painting contracts. However, gathering some valuable data to help you determine an optimal rate doesn't have to be hard.
When you set a price for a painting project, a good place to start is by determining your production rate—or the amount of time that it takes you to paint per square footage. How do you do this? It's easy. Although many painters struggle to arrive at these numbers, we have developed an easy-to-follow method for determining your production rate.
Pick the surface you want to paint. You can choose any surface, including a bedroom, window, or the siding on a house.
Set the timer on your phone and start painting. Before you start the painting process, set a timer on your phone. Once you've painted for about 3–4 hours, stop and write down two things: how much time has elapsed and how much square footage you have covered.
Calculate your production rate for the project. For example, let's say you painted door siding that you measured to be 400 square feet, and it took you 4 hours to complete. To calculate your production rate for this project, divide 400 by 4. In this example, the production rate would be 100 square feet of siding per hour.
Repeat the process three times. Repeat the process of timing your paint job and calculating a production rate three more times on the same kind of surface and document the same information. Now, you'll have three sets of data to use to calculate an average production rate.
Average the three production rates. Let's say after calculating the production rates from three different projects, you get the following numbers: 100, 125, and 135 square feet per hour. To calculate the average, add these three numbers and divide by three. In this example, you would get an average production rate of 120 square feet per hour.
Apply this method to all surfaces and painting processes. Now that you have a real-world, field-tested method for calculating a production rate for door siding, repeat it for doors, windows, trim, etc.
This simple approach to calculating production rates eliminates the need for estimating courses. With this approach, all you need is a watch, legal pad, pen, and calculator—or a phone. It is important to note that a production rate in and of itself should not be the determining factor for setting a price. Applying your optimal rate will depend on other factors, such as the market price and what the customer is willing to pay.
Applying the Optimal Rate for an Hour of Production
Many painters struggle to determine the optimal rate for their services. Is it $55 per hour? $45 per hour? $65 per hour? In reality, it's all going to depend on your ability to persuade someone to purchase from you and whether your sales system prioritizes price or persuasion.
If you have a terrible sales system, you'll get paid less, and less often. If you've got a process-driven, persuasive sales system, you'll get paid top dollar. Most painters think that setting an optimal rate is about calculating overhead costs and profit margins. However, this is not the case. The customer and the market will determine what you get paid, and if you can't persuade them, your cause is lost.
When setting an optimal price, you don't want to arrive at an arbitrary number. To set a competitive price, a good place to start is by calling up a couple of reputable painting companies in your area and asking them for an estimate for the same project for which you're trying to set a price. This will allow you to determine what the market price of that project is. Once you have this number, you want to create a price on the high-end of what the market will bear.
How to Increase Your Closing Rates: A Persuasive Approach
At Painter's Academy, we take a persuasive approach to determining an optimal price and closing rate. Our persuasive process centers around four pillars:
Prepositioning
Presenting
Post positioning
Follow-up
At the core of these pillars is the need to build trust with potential customers in a condensed time frame. In order to get customers to pay a premium price for your service, you need them to trust you and believe that you are the best choice. If you don't persuade customers that your services are the best fit for their project, they'll always go with the lower bid.
In sales, you can think of trust as equal to the number of interactions you have with a potential customer multiplied by the quality of those interactions. In a 24–150-hour period—which is typically the timeframe between when someone asks for an estimate and when you complete your first step of follow-up—you have to convince your customer why you are the best. Using surveys, audits, company stories, and social proof, you need to build trust with the customer and persuade them why they should buy from you at a higher price than everyone else.
Use the Business Coaching Services at Painter's Academy to Increase Your Profits
As a painter, employing a persuasive approach to gaining contracts is the best strategy for increasing your profits. Taking the time to invest in a persuasive, process-driven sales system will have big returns for your business.
At Painter's Academy, we know the struggles painters face in becoming successful business owners, and we're here to help. With over thirteen years of experience helping painting businesses grow, we have the expertise to take your business to the next level. Our services have a proven track record of helping painters develop the revenue streams and gain the contracts that provide profitable returns. If you want to grow your painting business, call today at (423) 800-0520 or fill out our online contact form.
The 5 Keys for Success in ANY Economy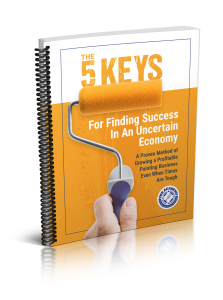 Discover the key to unlocking the hidden income potential in your painting business.
Hear What Other Members are Saying:
"Our first campaign reached $60,041.98! That's a huge percentage of our annual sales! You don't pick the peach orchard just one time. Different peaches ripen every day. Thanks for encouraging us to keep after it!"
"15 requests for quotes and closed and/or completed $23,000 of work and I still have a few more to do. Conservatively this campaign will net $25,000 in found money in the first 45 days! Thanks Brandon!"
"This year has been the biggest year of growth for us. We're double where we were last year. I realized the real money in this business is in the marketing of the services - not the doing of the services."
The 5 Keys for Success in ANY Economy
Discover the key to unlocking the hidden income potential in your painting business.