Estimating Courses and Schools for Painting Contractors That Double Estimator Closing Rates

Here's the problem with 99% of estimator and estimating courses and schools for painters: They're focused on PRICING instead of PERSUASION. You can be the best at PRICING your painting services and still end up DEAD BROKE or making far less money than you deserve (even if you're already successful.)
Growing a painting business is all about PERSUASION. Let me explain…
PRICING Painting Services Is Simple and Easy
A lot of money has been made over the years by making the painting estimating process appear more complicated than it is. They'll sit you in a school for hours showing you more ways to "price" than Carter has little liver pills. For an owner whose business consists of 90% residential repaints, the estimating process (PRICING) is simple and straightforward. There's no need to complicate the matter.
The first thing you do is calculate how much time it takes you to paint a surface and come up with a production rate. How do you do this? It's easy…
1 – Pick the Surface You Want to Paint – Maybe it's the walls in a bedroom, the siding on a house, or windows. For this example, we'll talk about siding.
2 – Set the Timer on Your Phone and Start Painting – Before you start the painting process, set a timer on your phone. Once you've painted for about 3-4 hours, stop and write down two things: A – How much time has elapsed. B – How much square footage you have covered.
3 – Repeat the Process Three Times – Do this two more times and document the same information. Now, you'll have three sets of data. Let's say they look like this…
4 Hours Painting, 380 Square Feet of Siding Brushed = 95 Square Feet of Siding Per Hour
4.3 Hours Painting, 325 Square Feet of Siding Brushed = 75.5 Square Feet of Siding Per Hour
5 Hours Painting, 425 Square Feet of Siding Brushed = 85 Square Feet of Siding Per Hour
4 – Average the Production Rates – In this example, we have three metrics to average: 95 + 75.5 + 85 = 255.5. Divide 255 by 3 and you get a round average of 85. This means your production rate for painting siding with a brush is 85 Square Feet Per Hour. The mystery of the ages has been solved in an afternoon…
5 – Apply This Method to All Surfaces and Painting Processes – Now that you have real-world, field tested methods for this surface, repeat it for doors, windows, trim, etc. Also, you can repeat it for different methods of application: Brush, rollers, and sprayer. You can apply this to pressure-washing, scraping, spot-priming, set up, break down, ladder work, commercial, industrial, you name it!
You see, you don't need an estimating course to do this. All you need is a watch, a legal pad, a pen, and a calculator. Heck, you can even do this on your OWN HOUSE!
6 – Apply the Optimal Rate for An Hour of Production* – What is an optimal rate for your services? Is it $55 per hour? $45 per hour? $65 per hour? In reality, it's all going to depend on your ability to PERSUADE someone to purchase from you. It will depend entirely on your SALES SYSTEM and whether or not it depends on PRICE or PERSUASION.
You see , many courses have been rehashing the same-old pricing strategies since the administration of Jimmy Carter, schools of estimating need to be focused on today's most persuasive techniques in order to be effective.
If you have a terrible sales system, you'll get paid less and less often. If you've got a process-driven, persuasive sales system, you'll get paid top dollar. It's not about overhead, profit margins, or any of that bunk. The customer and the market determine what you get paid and if you can't persuade them, your cause is lost.
PERSUADING Someone to Pay Top-Dollar for Your Painting Services and to Choose Your Company Instead of Lower-Priced Competitors Is Challenging
This is where the painting industry is decades behind all other white-collar service industries. When it comes to the art of persuasion and building trust, we are still in the Stone Age.
The typical painting contractor has an estimating process that looks something like this:
Step 1 – Don't Answer the Phone and Let It Go to Voicemail
Step 2 – Talk to the Customer on the Phone without Building Any Value or Offering Any Information On How Their Company is Different or Better Than the Typical Painting Contractor
Step 3 – Show Up and Make Small Talk About Kids, Dogs, or the Bowling Trophy
Step 4 – Eyeball the Project and Continue to Make Small Talk
Step 5 – Tell the Customer You'll Email and Estimate Without Providing Any Information On Why They Should Choose You or Pay More for Your Services Than Your Chuck-In-a-Truck Competitors
Step 6 – Email the Estimate without Any Persuading Information
Step 7 – Maybe Follow Up a Couple of Times Then Write Off The Customer Forever
If Your Estimating Process Looks Like This, You've Probably Been to a Course or School on Estimating for Painting Contractors That's Focused on PRICE – Not PERSUASION
So, what makes for a PERSUASIVE estimating process? Let me give you two steps to take so you can quickly figure it out:
First, watch this video I did for APC magazine. It unpacks every major component of a successful, persuasive estimating process.
Second, request the free report, CD, and video training series on this webpage before you leave. It digs deep and reveals all the steps in the PowePaint Presentation Process™. One of the best home-study courses on estimating for painting contractors you'll find.
The 5 Keys for Success in ANY Economy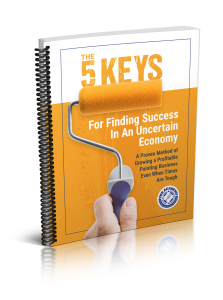 Discover the key to unlocking the hidden income potential in your painting business.
Hear What Other Members are Saying:
"Our first campaign reached $60,041.98! That's a huge percentage of our annual sales! You don't pick the peach orchard just one time. Different peaches ripen every day. Thanks for encouraging us to keep after it!"
"15 requests for quotes and closed and/or completed $23,000 of work and I still have a few more to do. Conservatively this campaign will net $25,000 in found money in the first 45 days! Thanks Brandon!"
"This year has been the biggest year of growth for us. We're double where we were last year. I realized the real money in this business is in the marketing of the services - not the doing of the services."
The 5 Keys for Success in ANY Economy
Discover the key to unlocking the hidden income potential in your painting business.