As a Commercial Painter, Should I Be on Twitter?

Today, there is no shortage of social media platforms. With platforms such as LinkedIn, Facebook, and Instagram taking the spotlight, many painting contractors don't have Twitter on their radar. The majority of construction companies and painting contractors on Twitter are medium-to-large-sized operations, leaving an untapped opportunity for many small painting businesses. With over 67 million users, Twitter is a platform that should not be overlooked and offers a great opportunity for painting contractors trying to tap into the world of social media marketing.
If your painting business is struggling, the business coaches at Painter's Academy are here to help you develop an effective marketing strategy to gain contracts that will grow your profit margins. Here are four benefits of using Twitter to market your painting business.
Twitter Will Help You Rank Higher on Search Engines
Just as your website can be indexed by search engines, tweets are also indexable. Crafting keyword-rich tweets will help increase your company's recognition and website traffic. In fact, companies that link content on their websites—such as a blog or landing page—in their tweets can expect to receive 30 percent of their website views from Twitter—that's a sizable portion of organic traffic. This is important because the more traffic your website gets, the more likely you are to rank higher and attract potential clients.
Twitter Can Give You Insight Into Your Competition
A good number of mid-sized painting companies are using Twitter as a marketing platform. Searching for your competitors on Twitter is a great way to get an idea of what they're working on, the users that are engaging with their content, and the overall language they are using in their tweets. This can provide you with valuable information on the best communication strategies for your market and shed light on how you can approve your content strategy.
Twitter Can Help You Connect With Your Customers
In a report conducted by Twitter, they found that 74 percent of users who follow a brand on Twitter do so primarily to get product and company updates. By harnessing Twitter as a way to keep your customers updated about your business, you can build better relationships with your customer base.
Additionally, many customers prefer Twitter—in lieu of an email or phone call—as a platform to ask any questions they have about your services. Establishing a Twitter presence is a great way to show your customers you care about them and build customer relationships that benefit your bottom line.
Twitter Can Help You Increase Your Profits
Increasingly, many companies are using Twitter as a way to identify potential customers. On Twitter, you can easily search for users who are tweeting about "painting a house" or "painting a school." This can be extremely valuable in creating a database of customers to conduct outreach to. Additionally, growing your Twitter followers can have a direct impact on profits. In fact, 50 percent of a brand or company's followers are more likely to buy a service from the companies they follow.
Use the Expert Business Coaching Services of Painter's Academy
Many painting contractors are reluctant to take time away from painting to focus on developing an effective marketing strategy. Too often, this results in painting contractors struggling to make a livable salary. As a painter, taking the time to invest in your business—specifically in strategic social media marketing strategies—is a great way to increase your profits. With hard work and dedication, you can watch your business grow, expand, and excel.
Transitioning from being a paintbrush connoisseur to a social media marketing master can be a challenge. At Painter's Academy, our team intimately understands the painting industry and how to harness social media marketing strategies to attract quality leads. Our services have a proven track record of helping painters develop websites and social platforms that provide profitable returns. Our team is led by a passionate group of business professionals with experience implementing successful strategies for growing small businesses. If you want to grow your painting business, call today at (423) 800-0520, or fill out our online contact form.
The 5 Keys for Success in ANY Economy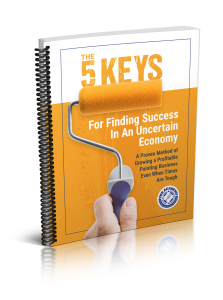 Discover the key to unlocking the hidden income potential in your painting business.
Hear What Other Members are Saying:
"Our first campaign reached $60,041.98! That's a huge percentage of our annual sales! You don't pick the peach orchard just one time. Different peaches ripen every day. Thanks for encouraging us to keep after it!"
"15 requests for quotes and closed and/or completed $23,000 of work and I still have a few more to do. Conservatively this campaign will net $25,000 in found money in the first 45 days! Thanks Brandon!"
"This year has been the biggest year of growth for us. We're double where we were last year. I realized the real money in this business is in the marketing of the services - not the doing of the services."
The 5 Keys for Success in ANY Economy
Discover the key to unlocking the hidden income potential in your painting business.