Are Online Reviews Important for Painting Contractors?
Most consumers don't trust online advertising. Conversely, 84 percent of people trust online reviews. Today, online reviews are essential for attracting new customers and growing your business. Increasingly, resources such as Google My Business, Yelp, and Facebook are becoming the go-to place for researching businesses. Most modern consumers use online reviews to make decisions about companies they want to do business with. As a business, this means providing a platform for your customers to post reviews is essential.
In order to grow their business, painting contractors must prioritize incorporating online reviews and referrals into their business model. Without an online space for reviews, you'll miss out on lucrative business opportunities and potential customers. Here are some of the ways that online reviews can help you promote your painting business and ultimately increase your profits.
Online Reviews Make It Easier for New Customers to Find Your Business
Most people begin to look for a business or service with a Google search. For consumers looking for a painting contractor, this might look something like: "painters near me" or "local painting contractors." Showing up at the top of the search results page provides valuable exposure and potential business. Online reviews are one of the most influential factors that influence search result rankings. If your business has a bunch of five-star reviews, it is more likely to show up at the top of the search results.
Because online reviews are a huge factor in building trust and establishing credibility, providing a place where your customers can post reviews is essential for a business's visibility. Without online reviews, it is likely that your business's website or listing will be buried on the second or third page of the search results, which are rarely viewed by users.
Online Reviews Can Create More Revenue
Online reviews are essentially a free marketing tool. Painting contractors looking to grow their business can see a huge return on investment from creating a platform for online reviews. A solid base of positive customer reviews will attract new customers and, in doing so, increase your company's revenue. While many people get overwhelmed by the idea of asking their customers to leave reviews, studies have found that approximately 70 percent of people will provide an online review after being asked.
Online Reviews Will Give Your Company a Competitive Advantage
Online reviews provide your business with not only a competitive advantage but also a great resource for valuable insight into ways your company could improve. On the one hand, if your painting business is the only business in your area that has online reviews, potential customers will be more likely to choose your services over your competitors. On the other hand, if you accumulate a couple of negative reviews, you can use the feedback to improve your business and provide your customers with a stronger service. Using constructive feedback to implement positive changes is a great strategy for providing your customers with the best possible experience.
Online Reviews Attract High-Quality Employees
One of the biggest struggles faced in the painting industry is finding and retaining reliable employees. Online reviews are a great tool for finding the best employees. When determining companies they want to work for, many skilled, responsible workers look at online reviews. If your company has a lot of positive reviews, that can attract talented workers and make it easier for high-quality employees to find your business and apply for a job.
Painter's Academy Helps Painters Develop a Sustainable Business Model
If you are a painter that is not seeing results from paid searches, the business coaches at Painter's Academy are here to help. With over 13 years of experience helping painting businesses grow, our team has the expertise to take your business to the next level. Our services have a proven track record of helping painters develop sustainable revenue streams that provide profitable returns. If you want to grow your painting business, call today at (423) 800-0520, or fill out our online contact form.
The 5 Keys for Success in ANY Economy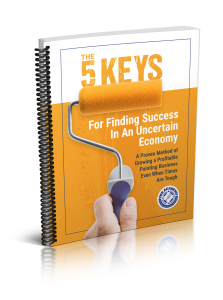 Discover the key to unlocking the hidden income potential in your painting business.
Hear What Other Members are Saying:
"Our first campaign reached $60,041.98! That's a huge percentage of our annual sales! You don't pick the peach orchard just one time. Different peaches ripen every day. Thanks for encouraging us to keep after it!"
"15 requests for quotes and closed and/or completed $23,000 of work and I still have a few more to do. Conservatively this campaign will net $25,000 in found money in the first 45 days! Thanks Brandon!"
"This year has been the biggest year of growth for us. We're double where we were last year. I realized the real money in this business is in the marketing of the services - not the doing of the services."
The 5 Keys for Success in ANY Economy
Discover the key to unlocking the hidden income potential in your painting business.