4 Things Clients Look for Before Hiring a Painting Contractor

Whether a client is looking to repaint the exterior of their house or a bedroom, they will usually do some homework before hiring a painting contractor. Since the residential painting market is saturated with contractors, it's important to be aware of the factors clients take into consideration when choosing a contractor. This way, you can position your painting company to be competitive and ultimately close the deal.
If you are looking for ways to enhance your marketing strategy and make your painting company more competitive, you should consider consulting with a skilled business coach. Outlined below are four things clients look for before hiring a painting contractor.
Recommendations
Word of mouth is one of the most common ways that people look for painters. Most people start their contractor search by asking their friends and family for recommendations. If a potential client has friends who have used a painting contractor in the past, they will most likely ask them about their experience with the contractor and if they'd use them again. For painting contractors, this emphasizes the value of recommendations as a form of advertising.
Good Online Reviews
If a prospective client doesn't have friends and family who have recently used a painting contractor, they'll usually turn to the internet for insight. Next to recommendations, online reviews are a popular way that customers make decisions about who they give business to. A painting contractor with an abundance of positive online reviews will most likely be chosen over one with few entries or negative reviews. As a painting contractor, it is important to set up a review system for your business. This will help you attract a larger base of customers.
Strong References
Another way potential clients make decisions about who to hire is references. A good painting contractor will have strong references from past customers that they can provide to potential clients. As a painting contractor, it is important to compile a list of references for different types of projects. For example, you may have different reference lists for exterior and interior paint jobs. This way, if a potential client is looking to have the outside of their home fully repainted, you can give them a list of satisfied customers. Prospective clients can either call these customers for a reference or they can drive by to check out the job for themselves.
A Comprehensive Estimate
Most prospective clients will want a detailed, comprehensive estimate for their project. While the actual cost of the job may be higher or lower depending on various factors, providing an estimate that's in the right ballpark will put you ahead of your competition. Additionally, prospective clients usually want to speak directly with the person who will be assigned to the job so that they can ask questions about how the project will unfold. So, it is important for contractors to be well equipped with information when talking to potential customers.
Use the Business Coaching Services at Painter's Academy to Increase Your Closing Rate
As a painter, taking the time to invest in your business model will help you gain the leads, contracts, and clients that increase profits. With hard work and dedication, you can watch your business grow, expand, and excel.
At Painter's Academy, we know the struggles painters face in becoming successful business owners, and we're here to help. With over 13 years of experience helping painting businesses grow, we have the expertise to take your business to the next level. Our services have a proven track record of helping painters develop the revenue streams and gain the contracts that provide profitable returns. If you want to grow your painting business, call today at (423) 800-0520 or fill out our online contact form.
The 5 Keys for Success in ANY Economy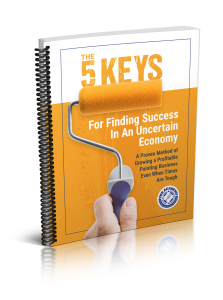 Discover the key to unlocking the hidden income potential in your painting business.
Hear What Other Members are Saying:
"Our first campaign reached $60,041.98! That's a huge percentage of our annual sales! You don't pick the peach orchard just one time. Different peaches ripen every day. Thanks for encouraging us to keep after it!"
"15 requests for quotes and closed and/or completed $23,000 of work and I still have a few more to do. Conservatively this campaign will net $25,000 in found money in the first 45 days! Thanks Brandon!"
"This year has been the biggest year of growth for us. We're double where we were last year. I realized the real money in this business is in the marketing of the services - not the doing of the services."
The 5 Keys for Success in ANY Economy
Discover the key to unlocking the hidden income potential in your painting business.